Tortuguero National Park (47,000 acres) and the surrounding area is truly a birder's paradise.
Tortuguero is known as "The Amazon of Central America". The beautiful swamp forests, freshwater sloughs, beach, river mouth and primary and secondary forest habitats support over 300 resident and migrant bird species.
Bird enthusiasts visiting Tortuguero can expect to see most of these bird species within a relatively small area from a variety of comfortable lodging options.
There are no automobiles in Tortuguero, instead visitors can travel to most of their birding destinations by boat on the many canals that are interlaced throughout the area.
Time spent birding on "trails" in the National Park itself can be the most rewarding, with opportunities to see flocks of mixed species of resident birds foraging in the dense undergrowth.
Large numbers of migrant species call Tortuguero home during the northern winter, and provide excellent opportunities for biologists to study these annual movements.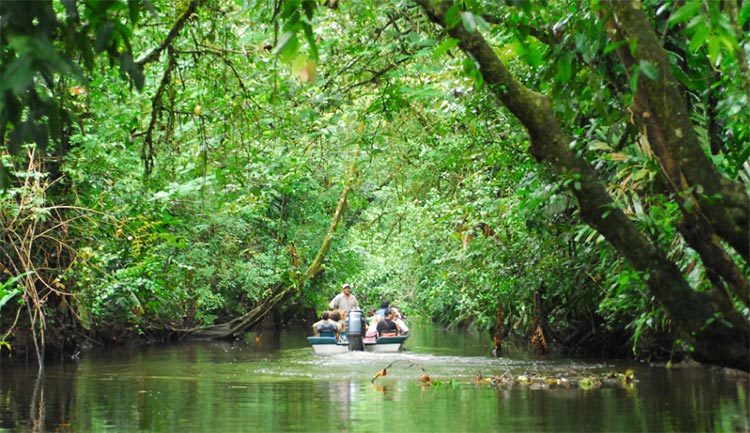 How to get to Tortuguero
There are two options to get to Tortuguero. Guests can fly or take a boat. As mentioned, there are no roads into Tortuguero.
If visitors prefer to fly, there are domestic flights on Sansa Airlines or there are opportunities to charter private planes as well. Flight time from San Jose is about 30 minutes and planes land at the small Tortuguero Landing strip.
For those who prefer to arrive by boat, you'll need to make your way to the port town of La Pavona where boats launch for the 90 minute canal journey to the various lodges.
The boat ride is a tour in itself as visitors are sure to see a wide variety of birds, mammals, reptiles, and amphibians on the transfer to their lodges.
What to expect during your visit to Tortuguero
There are different levels of accommodations in Tortuguero, ranging from basic to deluxe.
As the main focus of a visit to the area is birding and wildlife viewing, guests will find that most lodges include tours both into the canals by boat and by foot through the rainforest (with local guides).
Lodges also generally include all meals, because there are no options to eat outside of the hotels.
The small village of Tortuguero is another commonly visited site. It's a very small town with just about 2000 people. The town consists of some shops, bars, restaurants, and local homes.
One of the highlights of the town is the Sea Turtle Conservancy Visitor Center. The center has a very interesting movie on the history of turtle conservation in Costa Rica as well as a nice display.
For anyone interested in Ecology or conservation, it's worth the time to visit the center.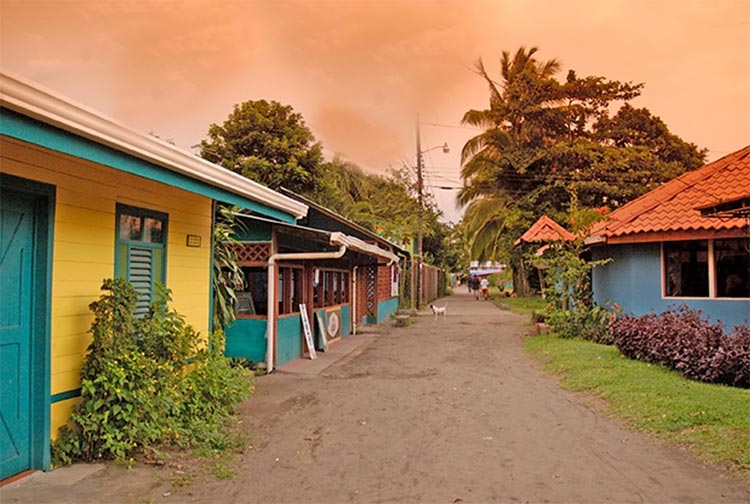 A stay of 2-3 nights in Tortuguero is ample for exploring the canals, visiting the town, and enjoying the ambiance of this very unique region.
It's important to note that entrance into Tortuguero National Park must be pre-purchased.
Guests can do this directly on the SINAC website or ask for assistance from their travel planner.
A ticket is required to enter the National Park. The lodges do not include the admission with their tours.
Be sure to purchase tickets prior to your arrival into Tortuguero.
Birding in Tortuguero
Birdwatchers enjoy Tortuguero as it is a great location for some very specific bird species.
It's a great location for the Great Green Macaw, Green Ibis, the very difficult Pygmy Kingfisher and the Rufous and Green Kingfisher, the Sungrebe, and the Purple-throated Fruit Crow.
While birders will see many species on the general tours offered by the lodges, we recommend a private boat and guide, or exploring the canals by Kayak to have the best chances to see the most species of birds.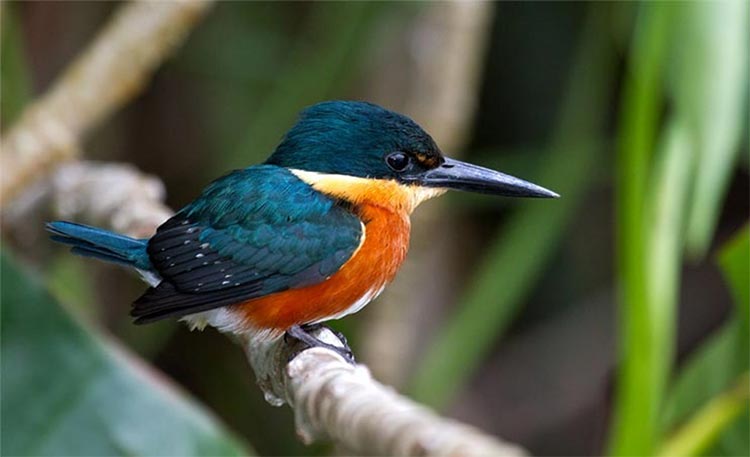 Other activities in Tortuguero
Sea Turtle Nesting Tours
From late June until mid-September one of the most miraculous natural events occurs in Tortuguero. The Green Sea Turtles arrive on the beaches to lay their eggs.
Guests can join an evening excursion to the beaches, with a ranger, to witness this incredible event.
Tours run nightly and can be booked at the lodges. They range in price from $35-$45 per person.
Guests may only go to the beach accompanied by an official park ranger.
The chance to watch these gentle creatures emerge from the sea, create their nests, and lay their eggs is astonishing.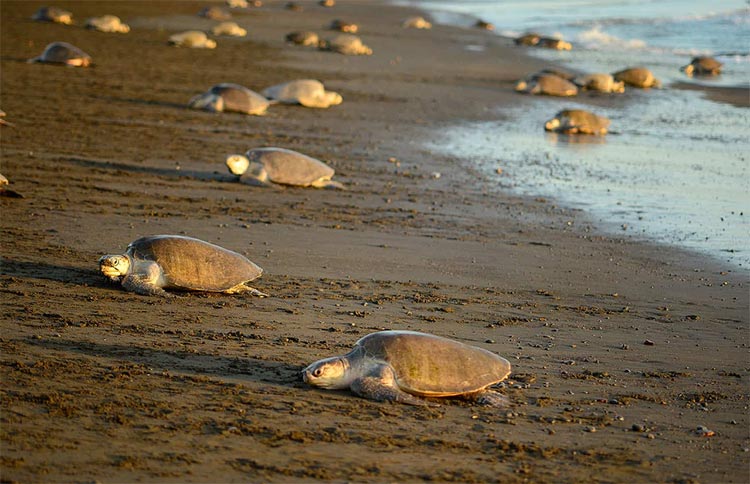 Tarpon Fishing
Many fishing enthusiasts come to Tortuguero to try their hand at Tarpon Fishing.
Tarpon are known as one of the fiercest fish in the sea.
This area of northern Costa Rica is fabulous for seeking out these amazing fish.
Excursions with a boat and captain can be arranged from all of the lodges.
Where to stay in Tortuguero
There are many choices in Tortuguero, here are some of our favorites:
Laguna Lodge
Nestled on a peninsula between Laguna Tortuguero and the Caribbean Sea, this secluded ecolodge sits among jungle and wetlands within Parque Nacional Tortuguero.
Simple rooms feature tile floors and wood furnishings, as well as safes and terraces.
The property has an open-air restaurant and 3 bars (1 with a terrace built over the lagoon), in addition to multiple outdoor pools and direct beach access.
Rana Roja Lodge
Rana Roja Lodge is a rustic, cozy choice for guests wishing to enjoy the best wildlife in Tortuguero.
It is located on the waterfront and minutes from Tortuguero National Park.
This lodge is within close proximity of the Sea Turtle Conservancy as well.Rooms have private balconies or patios and all have garden views.
Bathrooms with private showers are provided.
Conveniences include safe, ceiling fans, comfortable beds and housekeeping daily.
Evergreen Lodge
This lodge is truly immersed in nature.
Evergreen is located in the northeastern corner of Tortuguero, 5 minutes by boat from the main entrance to Tortuguero National Park.
The individual cabinas are in the rainforest, surrounded by nature.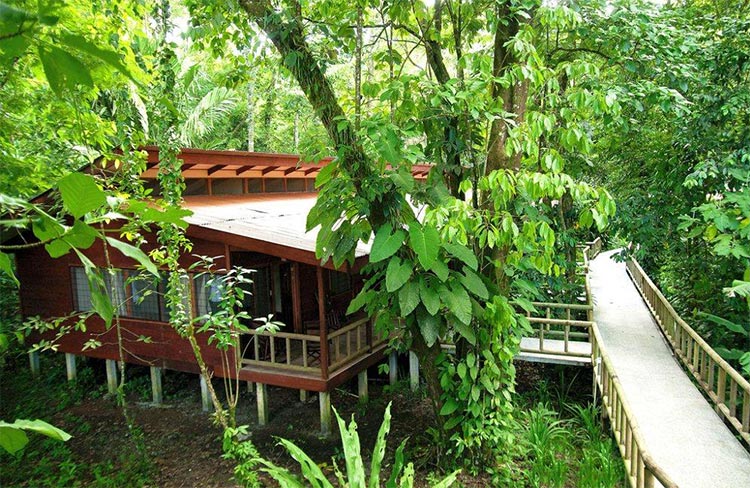 Aninga & Pachira Lodges
Aninga and Pachira Lodges are sister lodges and two of the largest properties in Tortuguero.
They hare great choices for families as they have swimming pools and activities for children.
The location is great for all the area tours.
Manatus Lodge
This is the only deluxe lodge in Tortuguero.
All rooms feature lovely amenities, air conditioning, tv and beautiful appointments.
The on-site restaurant is excellent, definitely the best in the area.
There is a small swimming pool that overlooks the canals as well.
La Baula Lodge
La Baula Lodge is a basic, but very comfortable lodge located conveniently near the Tortuguero National Park in the Northern Caribbean coast of Costa Rica.
The property is surrounded by forest and lush gardens filled with wildlife and located right in front of the Tortuguero Lagoon.
From the balcony of your room you can admire three different species of monkeys (howler, spider and white faced monkeys), sloth, birds, reptiles and amphibians.
Are you thinking about a birding or photography trip to Costa Rica? If you are, Tortuguero is a fantastic destination to include in your trip plan. If you'd like to talk to one of our specialists about your trip to Costa Rica, just fill in the form below and we'll be in touch right away.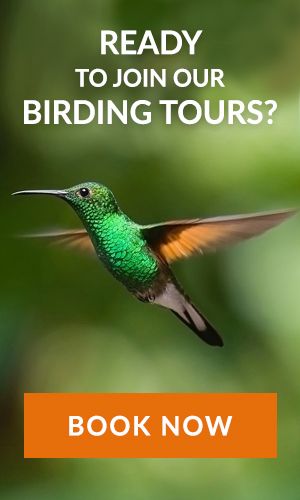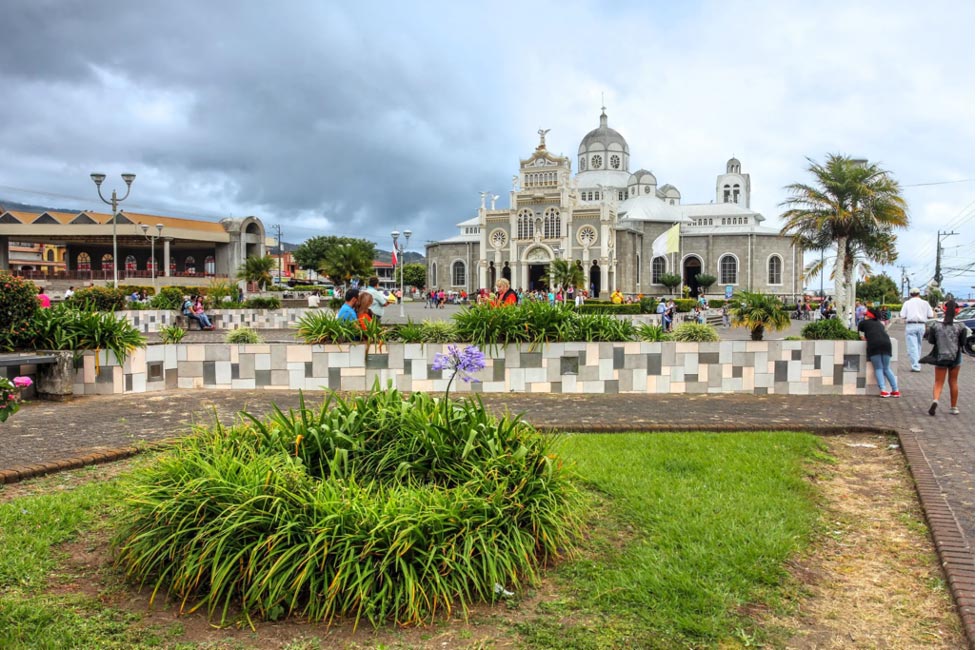 Nestled in the heart of Central America, Costa Rica is a natural wonderland that beckons...
read more
Get a Free Quote for Your Birding Tour