In this blog we'll be discussing the top bird watching locations in Guanacaste, the best hotels and lodges and what you need to know to plan your Costa Rica birding tour.
How do passengers get to Guanacaste?
Passengers can fly directly into the Liberia International Airport, in northwest Costa Rica. Here, transportation can be found to take passengers to the hotels, golden beaches, or mountain lodges. Liberia Airport is close to most of the top birding spots (25 minutes to the Papagayo Peninsula, 90 minutes to Rincon de la Vieja, and 90 minutes to the famous Palo Verde Biological reserve).

What is birding like in Guanacaste?
Guanacaste is a unique area, and one of the most delicate life zones in the tropics. The zone is known as Tropical Dry Forest and it is characterized by its months long period of no rainfall each year. Costa Rica has conserved the largest area of Tropical Dry Forest in Central America. The province is the southernmost location for MesoAmerican bird species; that is species whose habitat extends from Mexico to Costa Rica. Guanacaste is also an excellent place to stay if birding interests include shore birds and pelagic species. With a long Pacific coastline, birders are sure to enjoy coastal birding too.

In what part of Costa Rica is Guanacaste located?
The province of Guanacaste is located in the northwestern part of Costa Rica and spans from the Pacific Ocean to the northern volcanoes and south to the Nicoya Peninsula. Guanacaste is well known for being the sunniest and driest part of Costa Rica. The most popular months to visit are January, February, July and August, but birding tours are great year round.
Is Papagayo the best location for a bird watching adventure?
The Papagayo region of Costa Rica is a great location for passengers arriving into Liberia. With resort hotels available and adventure activities offered, Papagayo can be a good choice. Transportation is readily available from Papagayo to the area's national parks. For a one day birding trip, from the hotel, we would recommend a private, guided, early morning tour. For more intense, multiple day birding tours we recommend tours with one of our private guides to some of the other areas of the region too. Our guides are experts at finding the top birds of the region.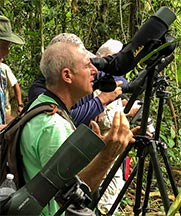 When should I plan to travel to Costa Rica and what type of tour should I book?
While many visitors enjoy traveling to Costa Rica in January, February, July and August, we can tailor a trip for any month of the year. Our tours always include transportation, accommodations, and birding. Guests can fly into and out of Liberia or San Jose. We offer private tours (with a private guide), small group tours (with a private guide) and independent tours (with local guides). We can send you a trip plan and quote with a price per passenger.
What are your recommended Lodges for Costa Rica Birding in Guanacaste?
Borinquen Mountain Resort
This beautiful, secluded lodge is perfect for bird watchers and nature lovers. The lodge sits on a hilltop, surrounded by forest providing tranquil surroundings to visitors. Birding on site is very good with excellent chances to see the top species of Guanacaste. Top birds on site: Thicket Tinamou, Turquoise Browed Motmot, Red-Crowned Ant Tanager, Stub Tailed Spadebill, and the Ruddy Woodcreeper.

La Ensenada Lodge
La Ensenada is a rustic lodge located on the Nicoya Peninsula near the Pacific coast. This former hacienda has been turned into a birding lodge by the original family. It is certainly one of the top birding locations in all of Guanacaste. Top birds on site: Lesser Ground Cuckoo, Rufous-necked Wood Rail, Mangrove Hummingbird, Crested Bobwhite, and the Pacific Screech Owl.

Palo Verde Biological Station
The Palo Verde BioStation is an amazing location for bird watching in the area. The accommodations are rustic but the bird watching is out of this world. Palo Verde provides forest and wetlands and the opportunity to see birds that are difficult to see anywhere else in Costa Rica. Top birds include: Jabiru Stork, Limpkin, Bay-Winged Hawk, Spot Breasted Oriole, Elegant Trogon.
Rancho Humo
Rancho Humo is located near Palo Verde Biostation. If you desire a stay in the area but want to have a more luxurious hotel, Rancho Humo delivers. Beautiful, well-appointed rooms, a refreshing swimming pool and excellent proximity to Palo Verde make it a great spot for birders.Top birds on site: Black Crowned Night Herons, Jabiru Storks, and Streak Backed Orioles.

Rio Celeste Hideaway
Rio Celeste Hideaway is a lovely boutique hotel nestled in the forest near the Tenorio National Park. Stunning bungalows are set within the serene forest. The lodge boasts a superb swimming pool, and excellent on site trails. Top birds on site: Keel Billed Motmot, Yellow-eared Toucanet, Lattice-Tailed Trogon.
What are the top locations for birding?
Rincon de La Vieja
This massive National Park is well known for the huge volcanic crater in the center of the national park. The caldron rumbles, mud pits bubble and fumaroles steam. The park has a new welcome center offering snacks and facilities. The trails offer various terrains and levels of difficulty.
Birding is spectacular, bird watchers will have the chance to add many top species to their life lists. Be sure to be on the lookout for: Lesson's Motmot, White fronted Parrot, Spectacled Owl, Pacific Screech Owl, Lesser Ground Cuckoo, Slaty-tailed Trogon, Black Faced Solitaire, Banded Wren, Royal Fly catcher, Emerald Toucanet, Thicket Tinamou, Red-Crowned Ant Tanager, Stub Tailed Spadebill, Ruddy Woodcreeper and the Montezuma Oropendola.

Santa Rosa National Park
Santa Rosa is another huge National Park. It covers over 38,000 square hectares of land. This park has historical significance to Costa Rica adding a bonus to a visit ahere. The park is a combination of grasslands and forest so it attracts a wide array of bird species.
Some of the top birds to look for are: Olive Sparrow, Stripe-Headed Sparrow, Scrub Euphonia, Thicket Tinamou, Harris Hawk, Orange Fronted Parakeet, Northern Potoo, Cinnamon Hummingbird,, Elegant Trogon, Ivory billed Woodcreeper, White-lored GnatCatcher, Banded Wren, and the Scissor-tailed Flycatcher.
Palo Verde Biological Reserve
Palo Verde is a remote national park covering 16,000 hectares of the Pacific Slope of Costa Rica. The park is a combination of dry tropical forest, marshlands, mangroves, and secondary forest.
The park is a very important breeding ground for resident birds and the wintering home of migratory species. Palo Verde is also the top spot for seeing the Jabiru Stork.
Top species to watch for: Jabiru Stork, Orange-fronted Parakeet, Yellow-naped Parrot, Cinnamon Hummingbird, Brown-crested Flycatcher, White-lored Gnatcatcher, Banded Wren, Olive Sparrow, Rufous-capped Warbler, Plain-capped Starthroat, Canivet's Emerald, Snail Kite, Mangrove Black Hawk.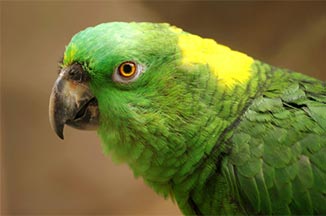 La Ensenada
Located on the Pacific Slope, La Ensenada offers amazing bird watching. You can stay at the lodge or plan for a day visit. Here you get a mix of Tropical dry forest species and wetland species.
Top species to put on your list are: Turquoise-browed Motmot, Cinnamon Hummingbird, Canivet's Emerald, Green-breasted Mango, Yellow-headed Caracara, Crested Caracara,Common Pauraque, Lesser Nighthawks, Pacific Screech-owl, Ferruginous Pygmy-Owl, and Short-billed Dowitchers.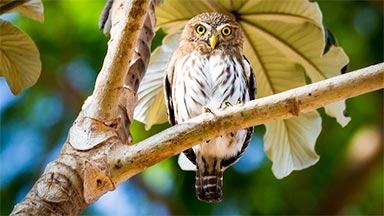 Tenorio National Park
A visit to Tenorio National Park not only gives visitors a chance to walk through one of the most gorgeous parks in Costa Rica but also offers time to enjoy amazing bird watching.
The park's trails meander along a beautiful river and take guests to one of the most incredible natural wonders in the country; the Rio Celeste.
Be on the watch for these top birds: Dull-mantled Antbird, Black-breasted Wood-Quail, Lattice-tailed Trogon,, Tody Motmot, Slaty-throated Foliage-gleaner, Dull-mantled Antbird, Black-headed Antthrush,Rufous-browed Tyrannulet, Sepia-capped Flycatcher, White-ruffed Manakin, Black-headed Nightingale-Thrush, Black-and-yellow Tanager, Black-faced Grosbeak,and the Yellow-eared toucanet.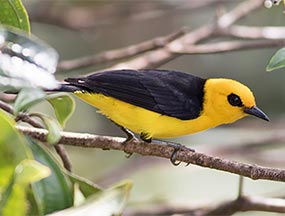 How soon should I book my Costa Rica birding adventure?
We always recommend that our guests contact us early to start planning their tours. Our tours are all custom made. Once we talk to you about what you are looking for in your visit, we'll put together a trip plan and price and send it out to you right away.
Ready to start planning your tour of Costa Rica? Inquire below to reach us at Costa Rica Focus. Let's talk about your next (or first) Costa Rica bird watching tour.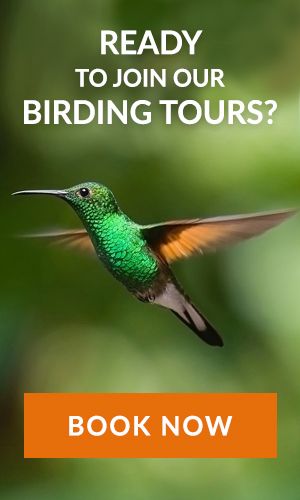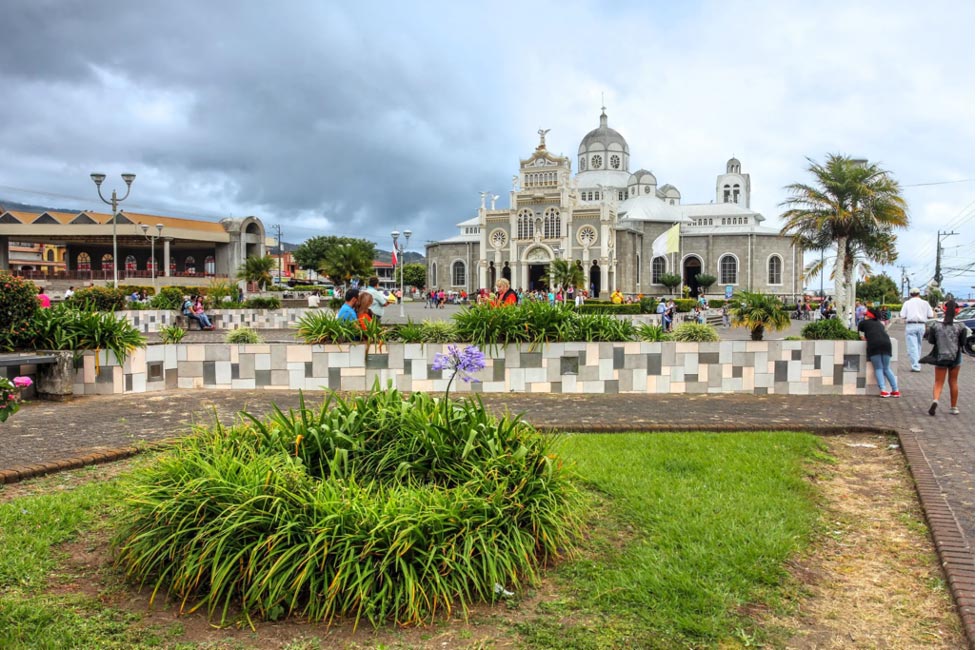 Nestled in the heart of Central America, Costa Rica is a natural wonderland that beckons...
read more
Get a Free Quote for Your Birding Tour