Rodolfo Zamora
Rodolfo "Rudy" Zamora, Costa Rica bird guide—was born in Santa Ana, Costa Rica in 1960. He grew up on a coffee plantation and dairy farm that has been operated by his family since 1863. His father, an avid naturalist himself, wanted his children to be exposed to nature. So Rudy, the first born, was already carrying binoculars and learning about the country's flora and fauna at a very young age.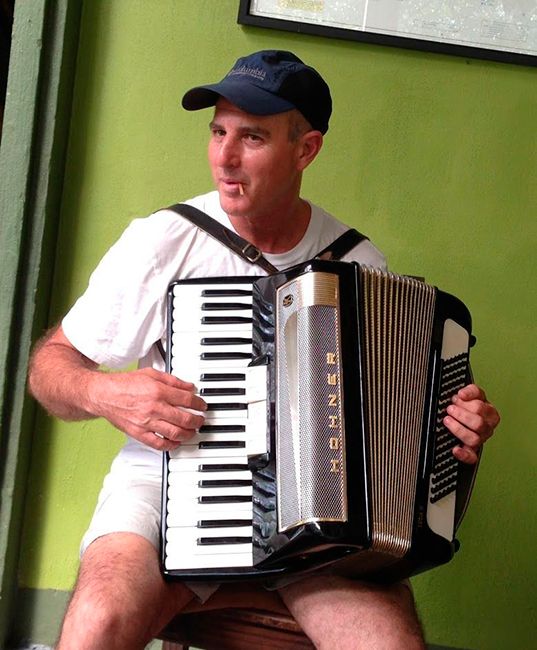 After studying for 4 years at the University of Costa Rica, majoring in chemistry and Natural History, Rudy continued his education at the University of Arizona, learning English, studying Music, and Ecology. He returned to Costa Rica and began his career as a Naturalist/Guide. His areas of interest and expertise include botany, zoology, geography, chemistry, biology, agriculture, natural history, and Costa Rican folklore. His passion, however; is Ornithology. As a teenager his acute interest and love of birds took hold. He has traveled throughout the world studying birds and has compiled a life list of over 3000 species.
30+ Years of Birding Experience
As a member of the American Birding Association, he has lectured and guided many Audubon groups in Costa Rica. Rudy was one of the key organizers for the Associations convention in Costa Rica, too. His 30+ years of experience with the unique biodiversity of Costa Rica has made him a highly sought-after Costa Rica bird guide. His commitment to the conservation and protection of Costa Rica's natural wonders and his passion for sharing his country with visitors has made him one of Costa Rica's top Naturalist/Guides. A trip with Rudy is an experience that most will never forget.
Erick Castro
Born and raised in Costa Rica, Erick Castro is a self-taught naturalist and birding and bird photography guide. He has more than 24 years experience in the field.  As a teen, Erick spent time in Nebraska, learning English and experiencing the culture of the United States. He began his career as an intern in a small birding lodge in his hometown of Sarapiqui. Here he had an opportunity to attend courses with NGO, Fundacion Neotropica, to become a local guide.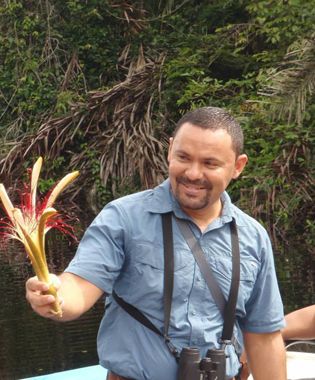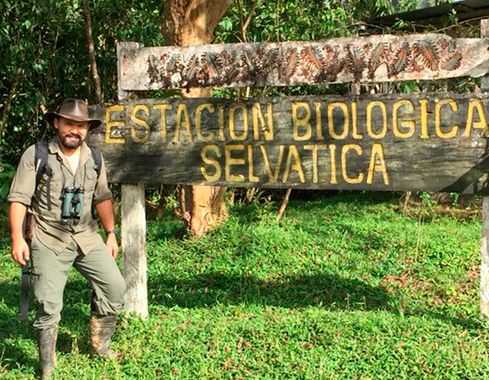 Tropical Studies at La Selva & 24+ Years of Experience as Costa Rica Bird Guide
After completing that course Erick went to work for the Organization for Tropical Studies at La Selva Biological Research Station. At La Selva, he learned from the experts in many different fields such as tropical biology, ecology, and conservation. During this period Erick's passion for birding developed and flourished.
During the last twenty-four years, Erick has been a naturalist guide, a guest speaker in Panama, a Tour Leader and Cruise Director for a small cruise ship sailing in CR and Panama. Erick was Costa Rica bird guide for many different groups including the Audubon Society. He has led successfully groups of all ages and interests, from very small groups of bird watchers to groups of up to a hundred people interested in many different topics.
Passion for Bird Photography
Erick enjoys an array of outdoor activities, from bird watching and mountain biking to white-water rafting and scuba diving. He enjoys his semi-pro DSLR camera adding digital photography to his list of interests and skills. Erick is very passionate about birds, animal behavior, conservation, and environmental education. He conducts all of his tours with these things in mind,  and hopes that everyone in the groups he leads takes some of his passion back home to share with others.
Alex Castro
Alex Castro was born in the small town of Naranjo, Costa Rica, just north of San Jose and not far from the Arenal Volcano region. As a young boy, he enjoyed the freedom of growing up in a small rural, agricultural area; running through fields and exploring the surrounding rainforests.  It was these early experiences that fueled his passion for wildlife and plants.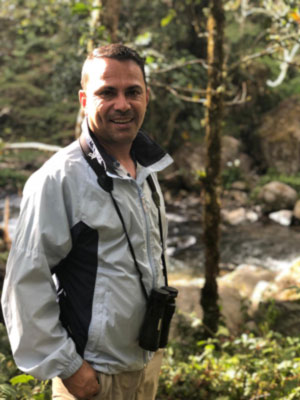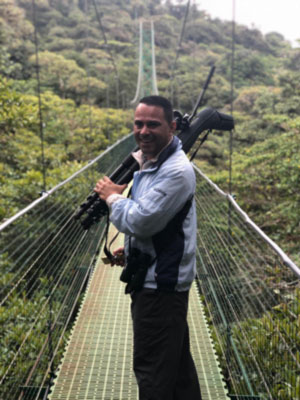 25+ Years of Experience as Costa Rica Bird Guide
Alex left Costa Rica in his late teens to study English in the United States, then returned for University in Costa Rica. He studied Tourism, Environmental Interpretation, and The Natural History of Costa Rica.
His personal passion for birds and birdwatching lead him to begin a career as a private freelance guide. Alex has been guiding birders and bird photographers throughout Costa Rica, Panama, and Nicaragua for the past 25 years. He combines his extensive knowledge, warm personality, and joyful love of nature to provide exceptional experiences to guests visiting the tropics. Along with birdwatching, Alex enjoys reading, hiking, and spending time with his family and friends.
Fito Downs
Fito's interest in nature started at a very young age. As a native of Costa Rica, he was exposed early to the wonders of animals, birds, and plants. Living immersed in the forest drove his passion to learn and share his knowledge and enthusiasm with visitors to Costa Rica and South America.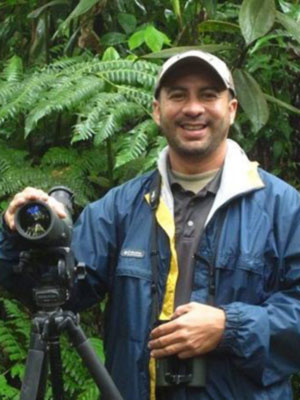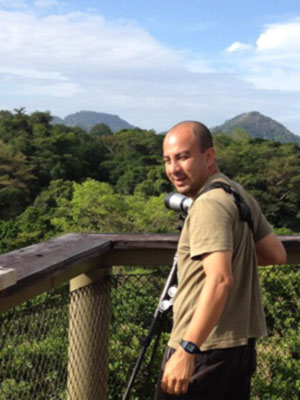 20+ Years of Experience as Costa Rica and South America Bird Guide
Fito started his career at La Selva Biological Station where he worked for 2 years conducting field research and guiding visitors. After, he continued his research with the Smithsonian Institute, at Barro Colorado Island in Panama.
Friends and family keep Costa Rica his home, but as well as guiding in Costa Rica, Fito has spent many years guiding in Ecuador, Bolivia, Brazil, Colombia, and Peru. While his true passion is birding, nature, and travel, Fito also enjoys swimming (especially in his local Sarapiqui River), photography, soccer and basketball. Fito speaks English and Portuguese, along with his native Spanish.
Minor Hidalgo
Minor is from the Caribbean lowlands of Costa Rica, Puerto Viejo de Sarapiqui. He grew up around the lush tropical rainforest, instilling in him a love for nature and especially birds. Along with studying tourism, Ecology, and Biology.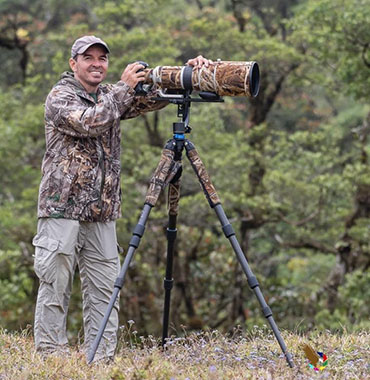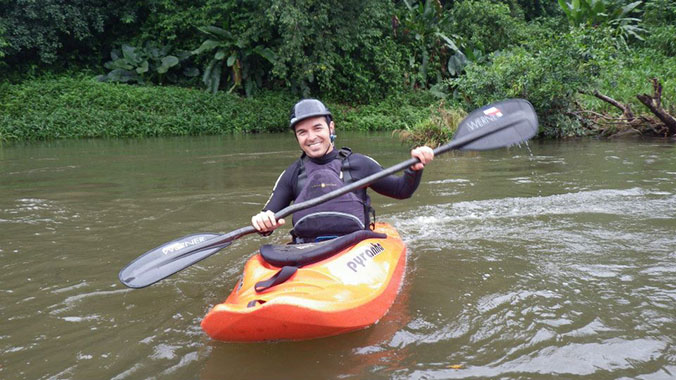 Minor has Spent 24 Years Working as a Researcher and as a Birding Guide at the La Selva Biological Station
With a keen interest in photography, Minor began taking pictures of the birds of Costa Rica. In 2016 he won first place in both the National Photography competition " The Birds of Costa Rica" and in the International Festival of Migratory Birds photo contest held on the Osa Peninsula.
As a birding guide, he loves to show his guests all the species they've come to see, as a photography guide, he understands the importance of getting that "best shot" and will strive to be sure his guests achieve their goals.
Minor has a twelve year old son, and together they enjoy being active and going to the movies. Minor loves kayaking, white water rafting, mountain biking, martial arts and he's an excellent dancer. He often teaches latin dancing when he's not out in the field looking for and taking pictures of birds.
Johan Weintz
Johan was born in a farm community outside the Arenal Volcano. From a very young age he enjoyed exploring the rain forest and fields looking for frogs, snakes, and interesting insects. Working on his family's farm, he was exposed to many different animals. These experiences fueled his interest in nature and wildlife and set him on the path of studying Ecotourism. Early in his studies, Johan was fortunate to attend a class with a well regarded local Ornithologist. This sparked his passion for birds and bird watching.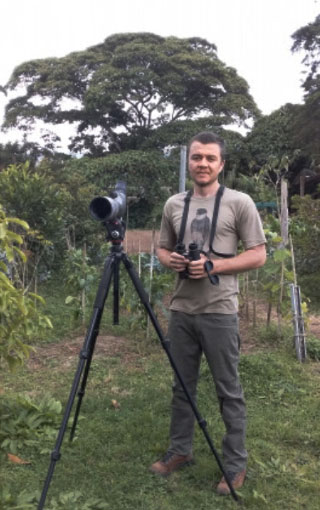 After studying at the University of Costa Rica, with a specialization in Natural History, Johan continued field work studying and learning about the birds of Costa Rica. For more than a decade he has led bird watchers and photographers from coast to coast in Costa Rica. Along with bird watching and nature, Johan enjoys staying active hiking in the forest, reading, and photography.
Carlos Jimenez
Carlos Jimenez studied Biology at the University of Costa Rica. He has continued his studies in the Management of Environmental Tourism. Having been raised in the Caribbean Lowlands of Costa Rica, Carlos was exposed to birds and wildlife from a very young age. He likes to recount seeing the Rufous Motmot for the very first time, "At that moment, I was hooked". Since then, Carlos has been a passionate bird watcher and avid nature lover.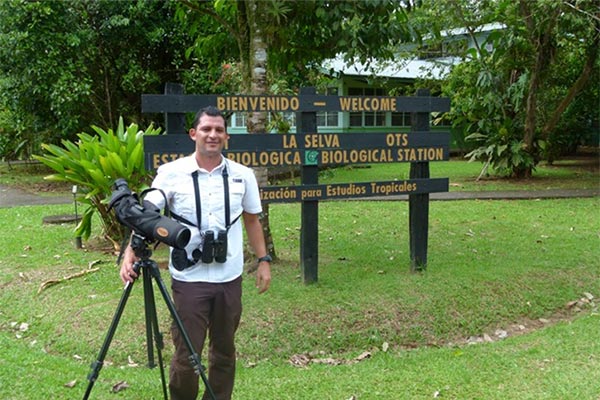 Carlos has More Than 20 Years Experience in the Field
Carlos started his career as a Field Assistant at the La Selva Biological Station and then managed the Tourism and Academic Department at the Palo Verde Biological Station. His love of birds and nature led him to begin guiding specialist birding and nature groups throughout Costa Rica. He has more than 20 years experience in the field, sharing his love of Costa Rica and its flora and fauna.
Andres Zuñiga
Andrés was born in San Jose and grew up in a small village in the Caribbean lowlands of Costa Rica, surrounded by lush vegetation, beautiful rivers, bananas, cocoa, and football soccer.
He started his birding and naturalist career almost two decades ago after finishing his degree in Ecotourism at the University of Costa Rica.
As a certified naturalist guide and an avid birder, Andrés loves to share his knowledge, passion, and respect for nature and culture with the visitors.
During these years of guiding, he has had the opportunity to travel to Central and North America.
Leading birdwatching and Nature tours all over Costa Rica gave him a better perspective of the importance we have and the responsibility as part of the ecosystem to protect and take care of it.
Andrés enjoys hiking, swimming, reading, gardening, and photography. When not working he spends time with his family and his four years old daughter who loves the beach.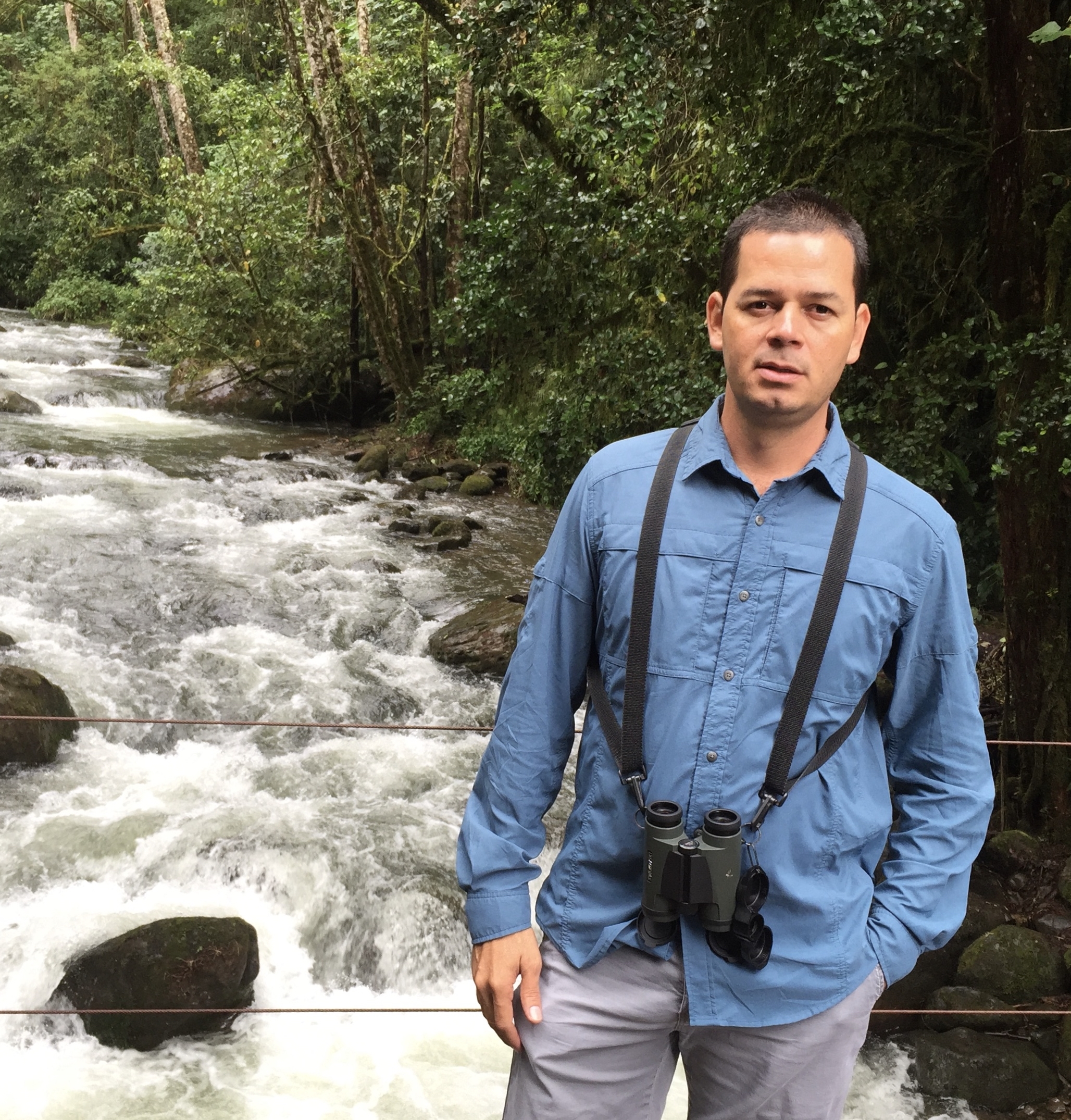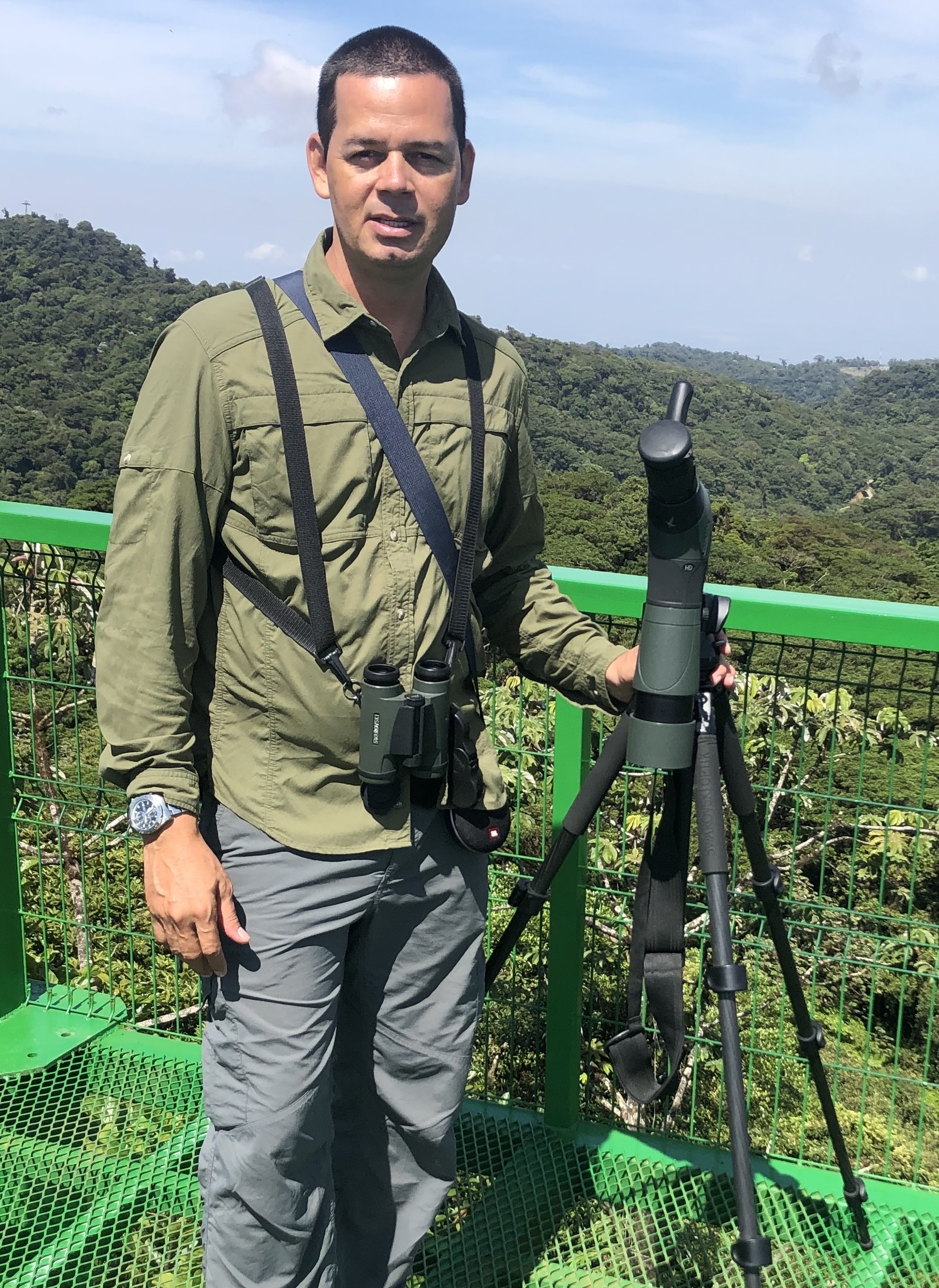 Gabriel Rojas
Gabriel was born on the Caribbean side of Costa Rica at the foothills of the Arenal Volcano in the town of La Fortuna. Growing up in an area so rich with flora and fauna, his interest in the natural world was sparked and his passion for birds and wildlife began. After completing his high school education, Gabriel continued studying the natural history of Costa Rica with a specialty in tourism. He began guiding in La Fortuna, Monteverde and Guanacaste and developed a specialty in birding, night tours, and river floating and kayaking. With over 22 years of guiding experience Gabriel has become a very sought after bird specialist.
As a guide he is knowledgeable and brings his love of Costa Rica to each and every trip he hosts. As a person he is warm and humble and a pleasure to have as a travel companion. Gabriel is eager to share his country with everyone.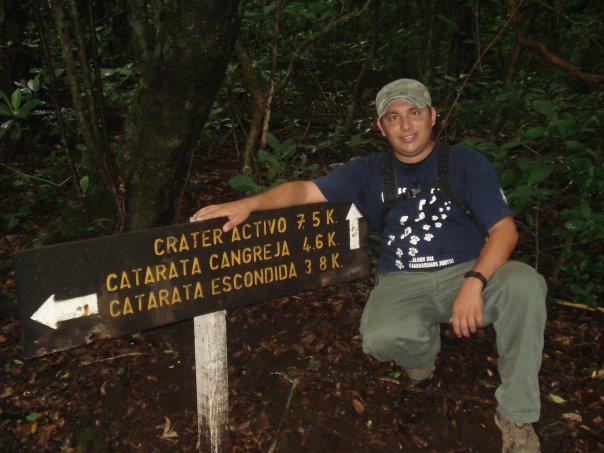 Andres Ramirez
Born in Cartago in 1982, Andrés grew up in a small agricultural community called Cervantes. When he was attending secondary school, he was influenced by family trips to different national parks and natural areas, so he began to develop his passion for nature, wildlife and especially his love for birds. At first he wanted to become a marine biologist, but then he realized his dream was to work outdoors in the tourism industry. He got enrolled to study Ecological Tourism at the University of Costa Rica (UCR), he ended getting a Bachelor's degree in 2004, and he started working immediately as a guide. While being part of a tour operator he complemented his studies doing the "General Guide" program at the National Learning Institute (INA). This is how Andrés got certified as an official tour guide by the Costa Rican Board of Tourism (ICT) in 2009.
His experience as a guide over the last 17 years has led him from one interesting experience to another. The scope of Andrés's guiding has been broad with groups of all ages, from large birding groups to small special-interest private tours and birding and photography tours for individuals.
Andrés guides tours all over Costa Rica and in Nicaragua and Panama as well. He thrives in introducing travelers to Costa Rica and enjoys meeting new people and sharing his love for Costa Rica. As a passionate birdwatcher and wildlife spotter his next interest was to become a nature photographer, adding a new ability/hobby to his career and personal life. He also realized he could use this ability to lead groups interested in nature photography. Currently he is a student at Fundatec, where he is about to finish the program to become a Technician in Digital Photography. He is definitely passionate about this field, and he is always happy about sharing his knowledge and helping travelers to capture the beauty of Costa Rica through the lens.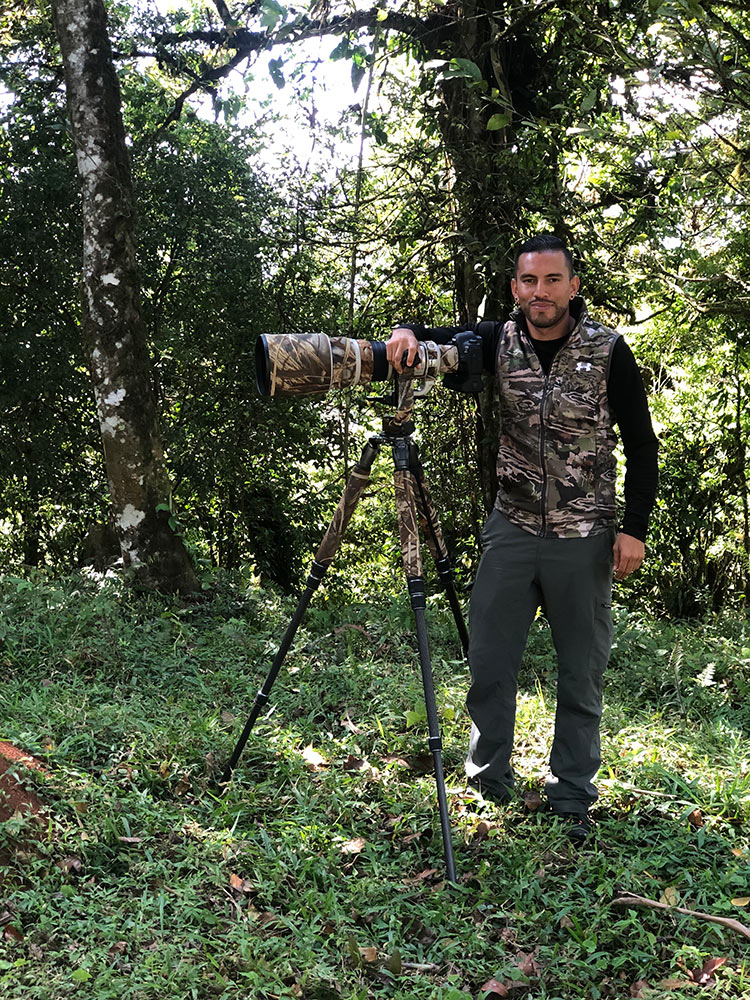 Mayer Jimenez
Mayer grew up in a small town in the Pacific northwest province of Guanacaste. He left his quiet life in the country to attend the University of Costa Rica in San Jose where he studied Natural History, Geography, Ecology and Biology. One of his professors specialized in birds and this inspired Mayer and his love of birds and birding began. When he finished his degree in Ecotourism he decided to parlay his knowledge into a career as a naturalist guide. He is a certified licensed guide with the ICT. His speciality is the birds of Costa Rica as well as flora and fauna and natural history. Mayer has more than 2 decades of experience in the field. While he is not a photographer himself, he feels confident and comfortable guiding photographers in the field, to help them get the top shots they are looking for.
In his free time, Mayer enjoys early morning walks near the river where he grew up, spending time with his Mom and brother, bird watching, cooking. He also loves to read, especially classic literature and books on biology and nature.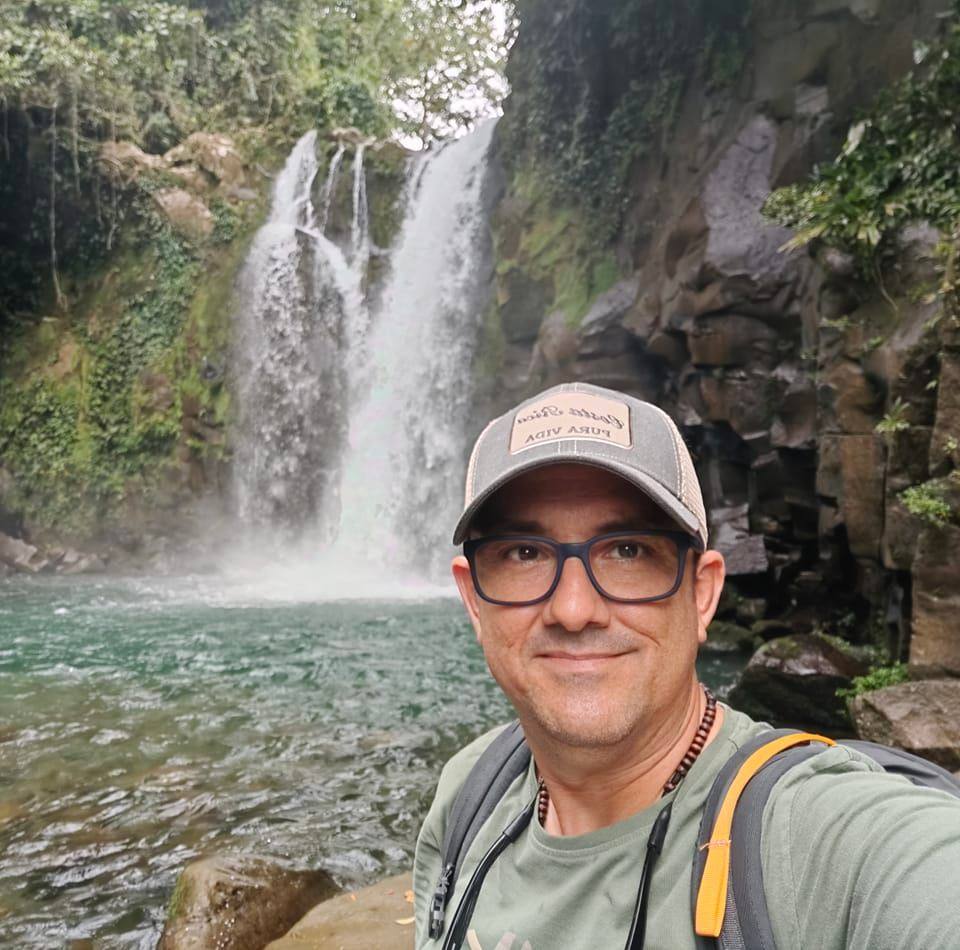 Erick Granados
Erick Granados is a professional birding guide and bird photographer. He has over a decade of experience guiding guests throughout all of Costa Rica. He is a certified guide and driver with the ICT in Costa Rica. Erick's love of birds and nature started when he was a young boy living in the Talamanca Highlands of Costa Rica. His interest started with a pair of binoculars and then, after seeing many visitors to Costa Rica with their cameras, he began to investigate photography and his passion flourished. You can see some of his work on his Instagram page at Quetzal_experience. He loves sharing his beautiful country with visitors, showing them all there is to see in Costa Rica.
Erick is a family man and spends his off time with his two children in the lovely Cartago Valley.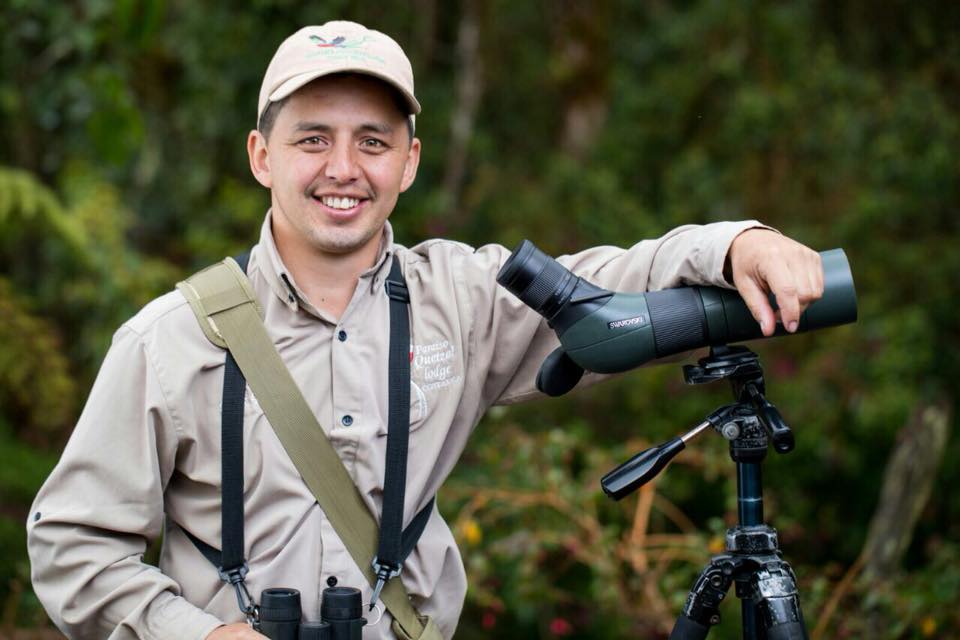 Lenin Duarte
Lenin Duarte was born and raised in Puerto Viejo, Sarapiquí in the Caribbean Lowlands of Costa Rica. As a child growing up in a small banana community he spent most of his time outdoors, surrounded by the flora and fauna of Costa Rica.
Just behind his family home was a pristine forest and a beautiful river. It was in this place, exploring as a young boy, where Lenin's love of the natural world was born. He spent most of his free time listening to the birds and the sounds of the jungle. He learned to distinguish birds from amphibians and insects and began to observe the habits of mammals and keep track of the different species in each part of the forest and river banks.
Being so closely in touch with nature led him from a boy's dream to reality by becoming a birding and nature guide, sharing his love of the natural wonder for his native Costa Rica.
Lenin studied Ecotourism at Colegio Técnico Professional de PuertoViejo Sarapiquí and learned about biology, natural resources, ecology, and English. After completing his education he became a certified Naturalist working at Selva Verde Lodge in the botanical and butterfly gardens. Lenin also worked as a Bird Watching Guide for La Selva Biological Station as well as a tour leader for prominent birding companies. His specialties are Naturalist trips with birders and photographers but also is ready to share his knowledge about Costa Rican history, culture, and its essence.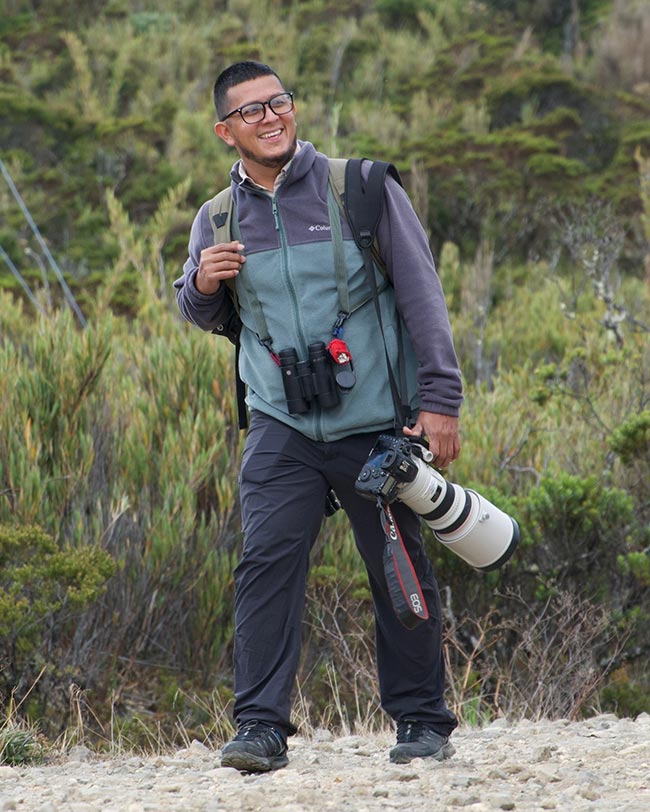 Get a Free Quote for Your Birding Tour