What could be more fascinating or more adorable than a tiny little bird, just inches long, with brilliant feathers in all colors of the rainbow zooming around your head searching flowers and feeders for nectar? I can't think of many things more lovely than a hummingbird.
Costa Rica is blessed with over 50 species of hummingbirds all within its small borders. There are technically 54 species of hummingbirds seen in Costa Rica but in these modern times, 48 species are truly possible.
While Costa Rica shares many species with Panama (near-endemic species) there are only two true Costa Rican endemic species. The Coppery Headed Emerald and the Mangrove Hummingbird.
Regardless of what part of the country visitors travel to, hummingbirds are available to be seen and photographed.
Seeing hummingbirds is a very important part of any bird watching trip to Costa Rica.
Let's look at some of the very best places to see a wide variety of species.
Recommended Hotels
Rancho Naturalista:
With its fantastic location on the foothills of the Talamanca Mountains, in the rolling hills of Turrialba, Rancho Naturalista is the perfect place to enjoy a wide variety of hummingbird species.
In fact, if the coveted Snowcap Hummingbird is on your target list, this is the very best location to spot this gorgeous bird.
Whether enjoying the hotel terrace feeders, walking the trails, or waiting quietly at the pools where the hummingbirds bathe each afternoon, guests are guaranteed to enjoy the wide variety of species.
Be on the lookout for Violet-Crowned Woodnymph, White-necked Jacobin, Green Hermit, Green Thorntail, Violet Sabrewing, Bronze Tailed Plumeleteer, Green Crowned Brilliant and of course the Snowcap.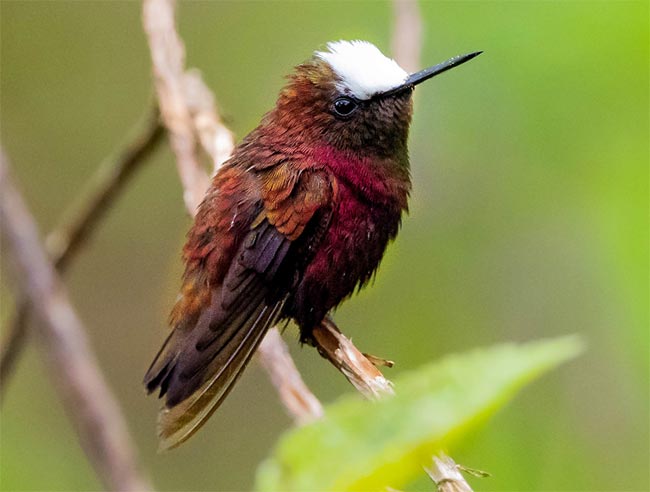 Arenal Observatory Lodge:
Arenal Observatory lodge is renowned for being one of the top birding locations in the country.
Sitting at the foot of the impressive Arenal Volcano, at a perfect elevation for hundreds of species of birds, the lodge offers beautiful gardens and expansive trails sure to satisfy any birder or photographer.
The star of the Humminbird show at Arenal Observatory is certainly the Black Crested Coquette.
Explore the Verbena Gardens for a great chance to see this stunning little Hummingbird gracefully flitting through the flowers.
Along with the Coquette, you'll want to look for the Green Thorntail, Bronze Tailed Plumeleteer, the Crowned Woodnymph, the Scaly Breasted and the Brown Violet-ear.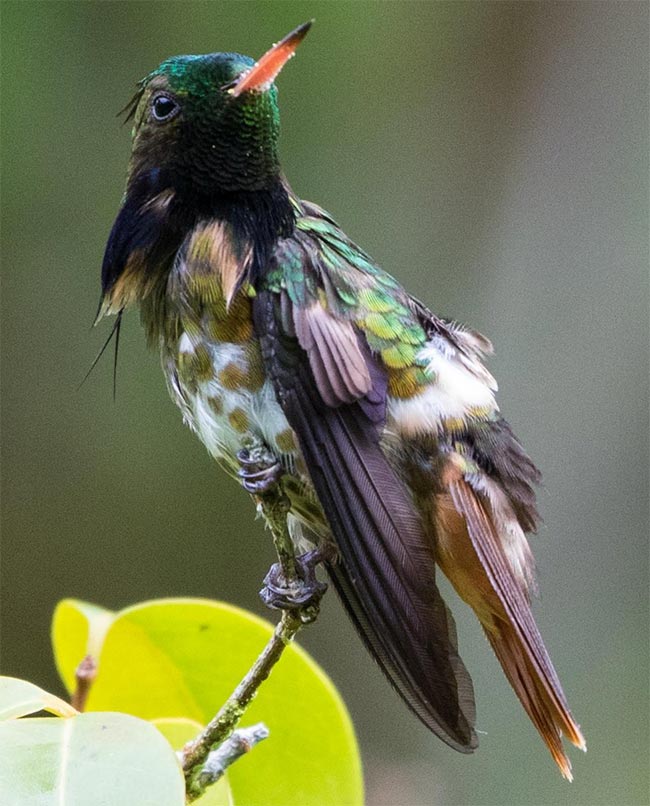 Quinta Galeon:
Quinta Galeon is a small private boutique hotel located near Santa Maria de Dota, just next to Los Quetzales National Park.
The hotel's main focus is Hummingbirds. There are feeders and gardens galore and if photographing Hummingbirds is your passion, a visit to Quinta Galleon will be well worth your while.
There have been 24+ species of hummingbirds seen and photographed at this location.
The owners have an interesting presentation called "The Hummingbird Experience" as well.
Some of the species on your target list should be the White Throated Mountain Gem, Scintillant Hummingbird (smallest Hummingbird in the Americas), Talamanca Hummingbird, Rufous-Tailed Hummingbird, Green-Violet eared hummingbird, and the Striped Tail Hummingbird.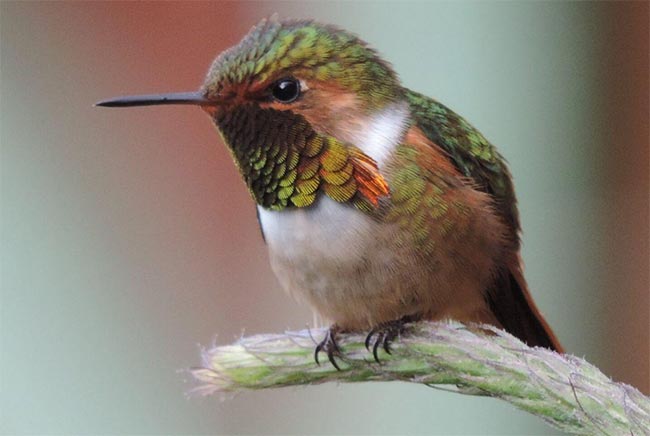 Esquinas Lodge:
There are many species of birds that inhabit the southern zone of Costa Rica and Esquinas Lodge is a great place to stay to get some of these tough to see birds.
The lodge is surrounded by forest and the owners maintain a lovely garden that attracts a nice variety of hummingbirds that are only seen in the southern regions of Costa Rica.
The heliconia gardens attract the Purple Crowned Fairy, Garden Emerald, Scaly Breasted Hummingbird, Crowned Woodnymph, and the Charming Hummingbird.
La Gamba Road is nearby and this is the best spot for spying the Sapphire-Throated Hummingbird as well. (This species is on everyone's most wanted list).
Recommended Hot Spots
Carara National Park / Tarcoles River Wetlands:
If you want to see the two true endemic hummingbirds, put the Central Pacific on your location list, it's one of the easiest places to find this elusive little bird.
The wetlands around Carara National Park and specifically a boat trip onto the Tarcoles are a great way to have a chance to see and photograph the Mangrove Hummingbird.
Visitors should also be on the watch for the Rufous Tailed Hummingbird, the Long-Billed Hermit, White-Necked Jacobin, Bronzy Hermit, Band-Tailed Barbthroat, Stripe Throated Hermit, and the Scaly Breasted Hummingbird.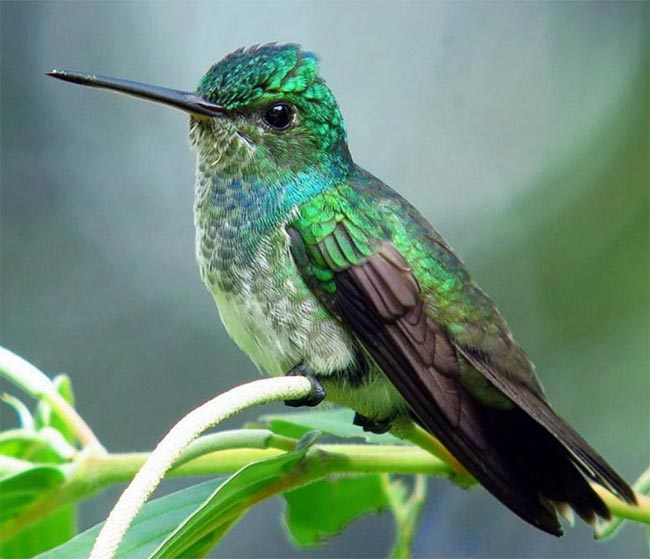 Wilson's Gardens:
Located at Las Cruces Biological Station, in the Southern Zone of Costa Rica, Wilson's Gardens proves to be one of the best places to spot the elusive White Crested Coquette and the lovely White Tailed Emerald.
It's a fantastic place for birders and photographers.
The gardens are simply gorgeous and are alive with a wide variety of bird species. Not just hummingbirds. The gardens are also a good place to spot the Charming Hummingbird and the Snowy-Bellied Hummingbird.
Santa Rosa National Park:
There are a few species of hummingbirds that are only found in the dry tropical forest.
Some of these species will venture down as far as Carara National Park, but the more northern locations in the Province of Guanacaste are more reliable.
Santa Rosa National Park is a very good location to find these unique species.
If you have The White Bellied Emerald, Cinnamon Hummingbird, Plain-Capped Starthroat, or Blue Tailed Hummingbird on your target list. Plan a visit to Guanacaste. Santa Rosa is a great spot for these hummingbirds and many dry forest species of birds.
Monteverde:
Not only is Monteverde one of the top birding spots in Costa Rica, it's also one of the best Hummingbird spots too.
The endemic Coppery-Headed Emerald can be found in the cloud forests of Monteverde, in hotel gardens and feeders.
There are several reserves in Monteverde, including Curi Cancha, the Cloud Forest Reserve, and Children's Eternal Rainforest. All of these locations are excellent for hummingbirds.
There is a Hummingbird Gallery at the Monteverde Cloud Forest Reserve, when the feeders are up and filled, guests can experience many different hummingbirds dive bombing through the gallery.
Most hotels have lush gardens as well, perfect for viewing and photographing hummingbirds.
Be on the lookout for the Coppery Headed Emerald, Violet Sabrewing, Purple-Throated Mountain Gem, Magenta throated Woodstar, White-Bellied Mountain Gem,and the Green Crowned Brilliant.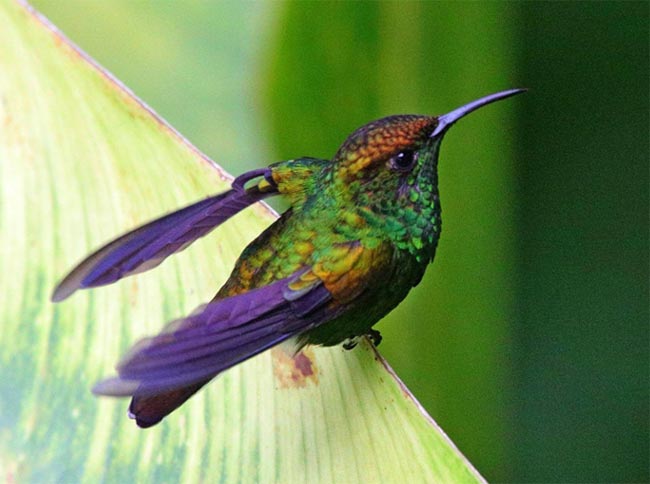 La Paz Waterfall Gardens:
Located just 90 minutes from San Jose, La Paz is an excellent day trip for guests with extra time in the Central Valley.
There are more than 26 species of hummingbirds recorded at La Paz Waterfall Gardens.
The Coppery Headed Emerald (Endemic) can be seen here too.
Hummingbirds at La Paz are used to people and often fly very close to inspect the humans invading their gardens.
Be on the watch for the Green Thorntail, Volcano Hummingbird, Green Fronted Lancebill, Black-Bellied Hummingbird, Fiery-Throated Hummingbird, Bronze-Tailed Plumeleteer, and the White-Necked Jacobin.
Cope's Garden:
Our guests are often looking to see or photograph the amazing White-Tipped Sicklebill Hummingbird. The easiest place to find this incredible bird is Cope's Garden. A small private garden near the town of Guapiles in the Caribbean Lowlands.
Seeing this bird, and its unique bill is a dream for birders and photographers.
While the Sicklebill is the main attraction, guests also have a chance to see the Long Billed Hermit, Purple Crowned Fairy, Crowned Woodnymph, Bronze-Tailed Plumeleteer, Stripe Throated Hermit, and the Rufous Tailed.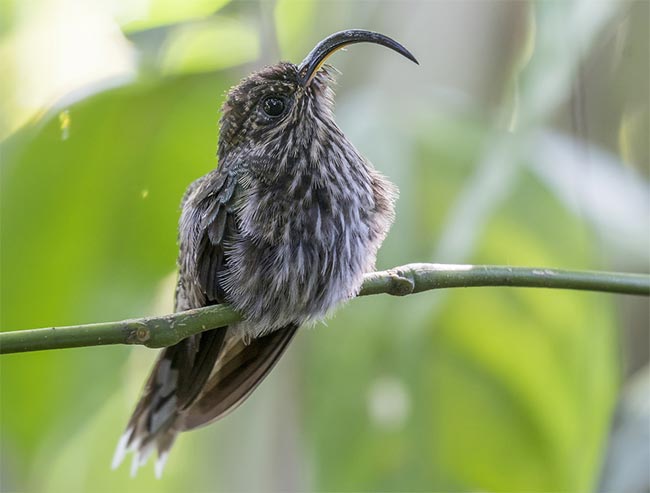 Batsu Gardens:
Batsu is the name in the indigenous Bri Bri Indian language for "Small Bird", translated to mean Hummingbird. The name is appropriate as Batsu Gardens is a remarkable place for spotting and photographing highland hummingbirds.
This is a top location for finding the Volcano Hummingbird, Scintillant Hummingbird, Lesser Violetear, Stripe Tailed Hummingbird, White-Throated Mountain Gem, Green-Crowned Brilliant, and the Fiery-throated Hummingbird.
As you can see, if you love Hummingbirds, Costa Rica is the perfect destination to visit.
We have a privately guided small group adventure focusing on Hummingbirds and we'd love to have you join us: The Hummingbird Hunt – April 13-25, 2023
If you'd like a custom itinerary for birding or photography, fill in the form below to contact us and we'll get right back to you to start planning your trip.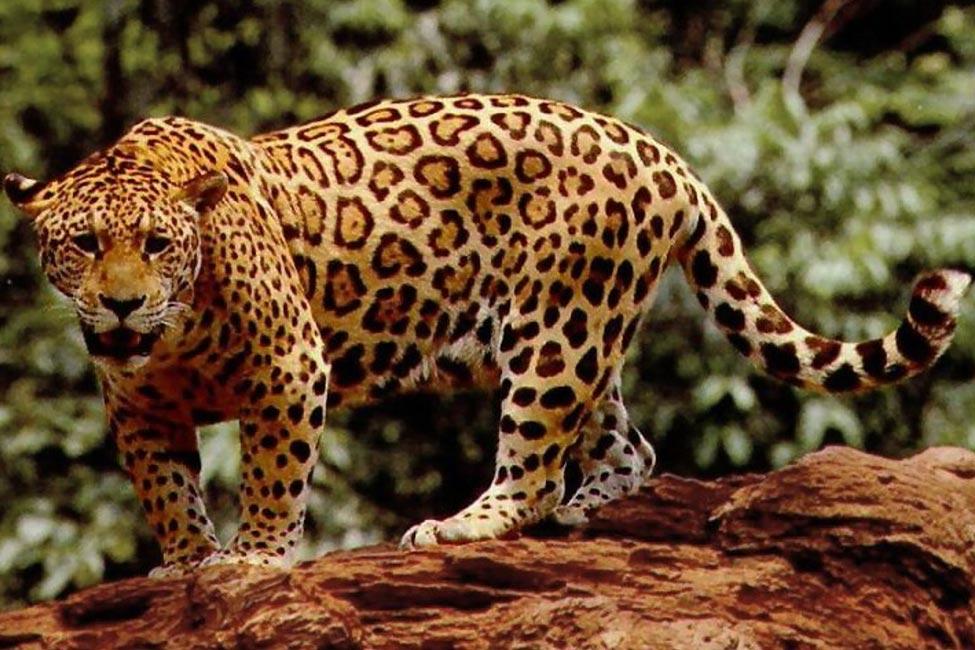 I can't think of another location in Costa Rica that has been waxed poetically more than...
read more
Get a Free Quote for Your Birding Tour