For birdwatchers looking for the opportunity to see 400+ species of birds in one location, Carara National Park is an excellent place to include in a bird watching trip plan.
With easy access from the Central Valley and the Southern Zone, Carara provides superb birding, wildlife viewing and photography opportunities.
In the indigenous language of the Huetar people, Carara translates to "River of Lizards". This is a fitting name as the Tarcoles River forms one of the borders of the national park. The Tarcoles River is home to one of the largest populations of the humongous Central American Crocodile.
Carara National Park or Parque Nacional Carara is located in the Central Pacific region of Costa Rica.
It is just 70 km (44 miles) from San Jose and about 22 km (14 miles) from the popular town of Jaco.
This beautiful park encompasses almost 13,000 acres of transitional tropical forest.
The Northwest zone is characterized by warmer temperatures and lower rainfall and is referred to as tropical dry forest.
The Southern zone has more rainfall, dense primary forest, and centuries old trees and the Coastal zone includes rivers, wetlands and marshes.
Carara acts as a natural migration path between the northern province of Guanacaste and the southern National Parks of Manuel Antonio, Piedras Blancas, and Corcovado.
The unique location brings a huge array of birds and wildlife through the forest and trails of the park.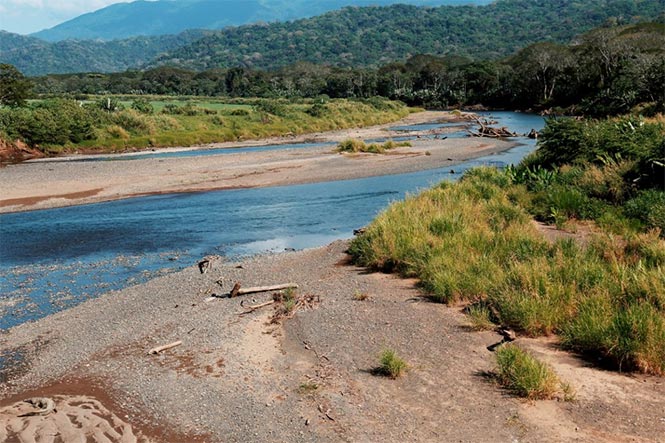 Getting to Carara National Park
The park is easily accessed from Route 34 near the town of Tarcoles and the famous Crocodile Bridge that spans the Tarcoles River. The main entrance is at the ranger station on the right side of the Costanera (Route 34) Highway. There is a small sign at the ranger station and a parking area.
Visiting Carara National Park
The park is open daily in the high season from 7:00 a.m. – 4:00 p.m. and in low season from 8:00 a.m. – 4:00 p.m.
Admission is $10.00 for foreigners. Tickets must be purchased at the ranger station.
For visitors who would like to have a guide (recommended), there are freelance guides available at the entrance or guided tours can be booked in advance.
It is best to get to the park as soon as it opens (as early as possible) because the highest level of bird and animal activity will be in the early part of the day, before the temperatures rise.
By 12:00 p.m. the heat of the day will push birds and wildlife deeper into the forest, under the protection of shade.
Late afternoon is also a good time for birds, especially for the Scarlet Macaws. The Macaws will begin to return to the park to roost for the night in the late afternoon. Visitors can generally see them from the parking area.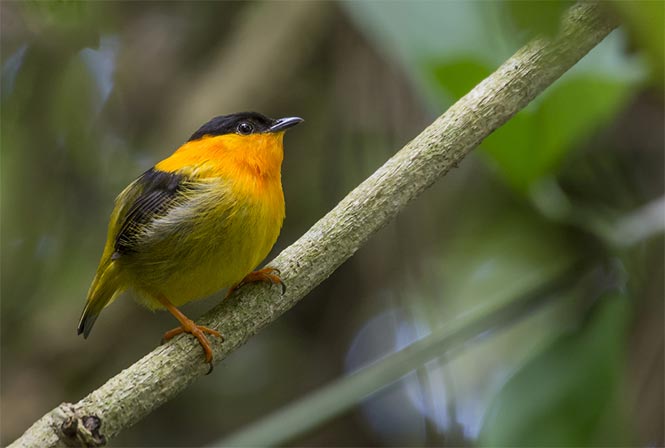 The trails of the National Park
Exploring Carara National Park is relatively easy. Most of the trails are flat or nearly flat, so access and navigation is suitable for most levels of physical ability.
Visitors can choose a single trail and spend an hour walking through the park, or for those looking for a higher level of exploration, a full day can be spent trekking through the park.
Universal Loop is the main trail from the ranger station. It is 1.2 km (¾ of a mile) and it loops through shady forest and thick undergrowth. The trail is flat and paved, so even visitors in wheelchairs can manage this trail. There are benches to rest or take in the sights and sounds of the forest, restrooms, and signs that give information about the flora and fauna. This trail is great for general tourists or birders looking for a quick visit.
About halfway down the Universal Loop trail, visitors will find the trailhead of the Quebrada Bonita Trail (1.5 km / 1 mile) . This trail is not paved, this is a hiking trail with a more narrow path, tree roots, and some short up and downs. This is a great trail for anyone interested in plants and trees as many of the trees along this trail are over 100 years old.
From Quebrada Bonita Trail, another trail branches off, The Araceas Trail. It loops around for 1.2 km / ¾ mile. This trail is not groomed and it has a lot of up and down. This would not be advisable for anyone who has trouble walking or hiking.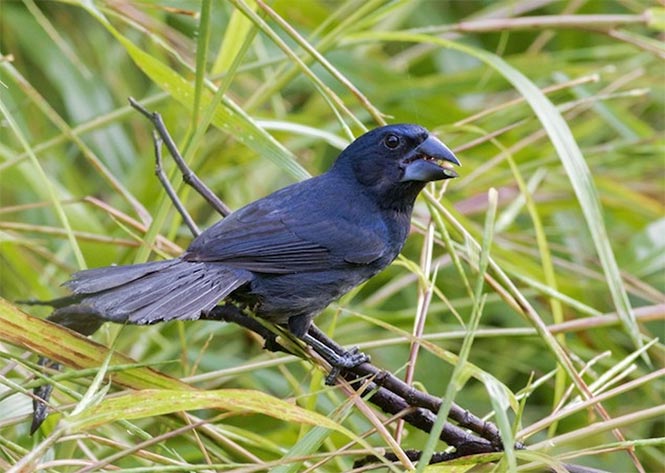 There is another trail, the Meandrica or Riverside Trail, that is located about 2 km north of the main ranger station.
There is a separate parking area here, and parking attendants to watch your car (for a tip).
This trail is generally considered the most prolific for bird watchers.
This trail is 4 km / 2.5 miles and is generally flat but not as well groomed so you may find debris or fallen trees along the path.
This trail is exceptional for birding because it's a mix of habitats. At some points the vegetation is lower, there are several clearings, ponds and areas where the trail borders the river.
What birds can you see at Carara?
Yellow-bellied Flycatcher, Chestnut-sided Warbler, Yellow-throated Vireo, Ruddy Quail-dove, Rufous-and-white Wren, Northern Bentbill, Black-hooded Antshrike, Dusky Antbird, Brown-hooded Parrot, Scarlet Macaw, Plain Xenops, Wedge-billed Woodcreeper, Masked Tityra, Northern Barred Woodcreeper, Dot-winged Antwren, Orange-collared Manakin, Baird's Trogon, Common and Slate-headed Tody-flycatcher, Purple-crowned Fairy, Long-tailed and Little or Stripe-throated(same species)Hermit, Turkey, Black and King Vulture, Streaked Flycatcher, Cocoa or Buff-throated Woodcreeper, Rufous-breasted Wren, Black-bellied Wren, Black-throated Trogon, Violaceous Trogon, Black-headed Trogon, Lineated Woodpecker, Riverside Wren, Cherrie's Tanager, Red-legged Honeycreeper, Golden-hooded, Summer and Gray-headed Tanager, White-collared Swift, Boat-billed Flycatcher.
For those of you who are especially looking for the Orange-collared Manakin, Blue-black Grosbeak, Variable Seedeater, Barred Antshrike and Rose-throated Becard, Great Tinamou, White-winged Becard, Golden-crowned Euphonia, Black-faced Antthrush, Sulphur-rumped Flycatcher, Chestnut-backed Antbird, Buff-throated Foliage-gleaner, Plain-capped Starthroat, Ochraceous Flycatcher, Fiery-billed Aracari, Laughing Falcon and finally Chestnut-mandibled Toucan,Ruddy Quail-dove, White-winged Becard, Plain-capped Starthroat and Brown-hooded Parrot, Crested Guan, Bright-rumped Attila, Pale-billed Woodpecker, Chestnut-collared Swift, Buff-throated Saltator, Orange-billed Sparrow, Blue-crowned Manakin, Amazon Kingfisher, Gray-necked Wood-rail, Olive Sparrow, Worm-eating Warbler, Kentucky Warbler, Ovenbird, Blue-throated Goldentail, White-shouldered Tanager, Rufous Piha, Yellow-olive Flycatcher, Golden-naped Woodpecker, Painted Bunting, Long-billed Gnatwren, Tawny-crowned Greenlet, Ruddy-tailed Flycatcher, Slaty-tailed Trogon, Muscovy Duck, Buff-rumped Warbler, Gray Hawk, Rufous-tailed Jacamar and Bay-headed Tanager.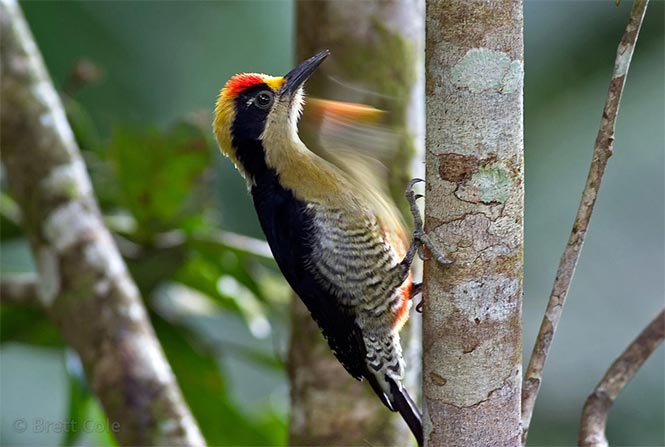 Where to stay when visiting Carara National Park?
1- Cerro Lodge
Cerro Lodge was built to provide the best service for nature lovers, especially birders and photographers. It is surrounded by beautiful landscape, overlooking the sea and the mountains.
The facilities are located in a privileged location, just minutes away from the Tárcoles River, the Carara National Park and, of course, only steps from La Barca trail. These are three excellent places for the sighting of birds and other animals.
2- Macaw Lodge
Macaw Lodge is a working, growing and evolving center for eco-tourism, research and conservation.
Today, people from around the world come to Macaw Lodge to discover the natural wonders of Costa Rica.
The Lodge is the culmination of a long-held vision of the Gordienko family. They took part in a government-sponsored Forestry Investment program designed to reverse damage done by over planting of monotonous agricultural crops.
In the 1980s, they were honored to purchase and become stewards of Santuario de Macao Limitada—the farm that is now home to Macaw Lodge and The Macaw Lodge Private Forest Reserve.
Over the past two decades, they have created a model of sustainability, restored the health of the forests and fostered a return of many animal, plant, insect and bird species, including the Scarlet Macaw.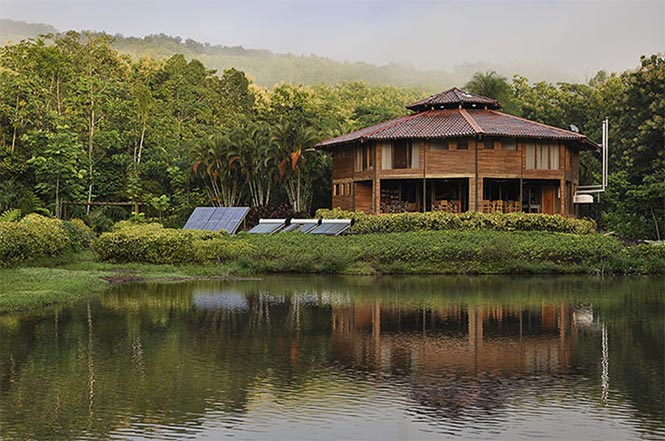 3- Villa Lapas:
This rainforest hotel, located in the Central Pacific of Costa Rica, is a favorite for bird watchers and nature lovers.
The hotel features just 70 comfortable rooms, completely surrounded by lush tropical gardens and beautiful rainforest.
The 500 acre private reserve includes primary and secondary forest plus a pristine river flowing alongside the hotel.
Be sure to listen for the Scarlet Macaws, this forest is the perfect place to spot them.
Along with exploring the trails surrounding the lodge, birders and bird photographers can take advantage of the excellent location of the lodge.
Carara National Park and the Tarcoles River Estuary are nearby. These are two must visit areas for all birders visiting Costa Rica.
Are you thinking about a birding or photography trip to Costa Rica? If you are, you should include the Carara National Park in your trip plan. It's a MUST VISIT for birders and photographers.
If you'd like to talk to one of our specialists about your trip to Costa Rica, just fill in the form below and we'll be in touch right away.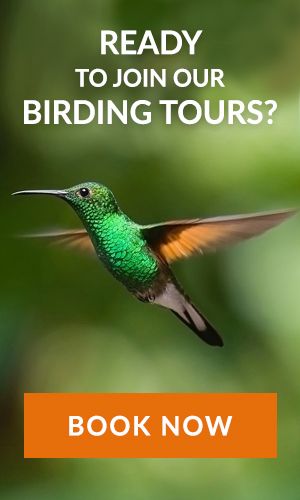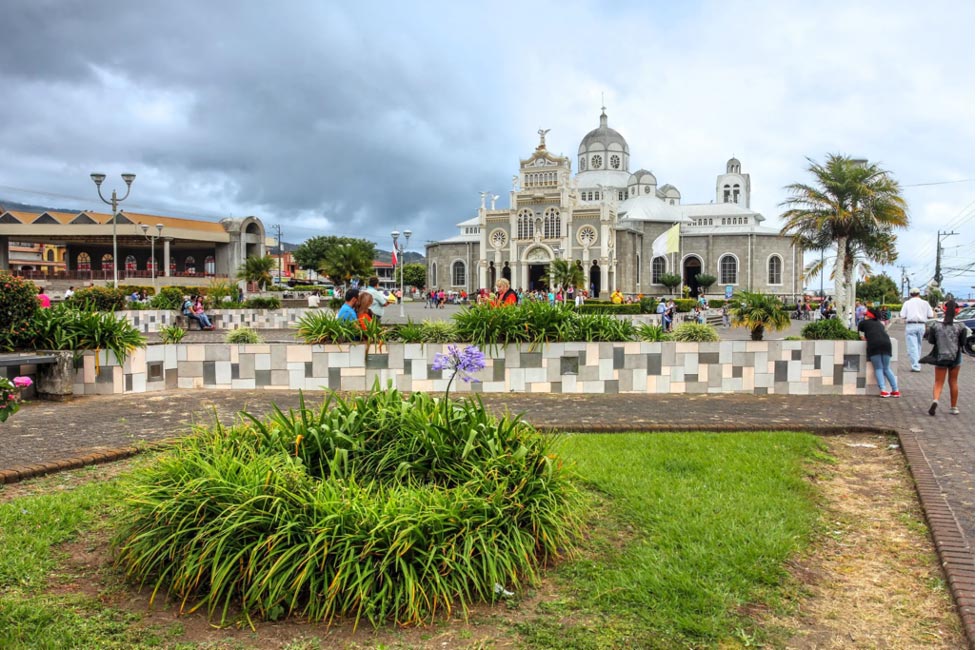 Nestled in the heart of Central America, Costa Rica is a natural wonderland that beckons...
read more
Get a Free Quote for Your Birding Tour