Monteverde, Costa Rica – Birdwatching is a Way of Life
In 1950, a group of Quakers left the United States for the Republic of Costa Rica to avoid being drafted to fight in the Korean war. This quiet group of pacifists, numbering just 50 people, were granted refuge by the government of Costa Rica and offered the lands of Monteverde to settle and cultivate the land. 
Monteverde was one of the least accessible places in the country, but the government hoped that by opening up this opportunity to the Quakers, Monteverde could become a thriving agricultural and dairy farming area.
The Quakers arrived in Costa Rica from all over the United States in trucks, carrying their few worldly possessions and their few heads of cattle. They began to clear the land, to provide grazing for their cows, and gardens to grow their crops.
The Quakers lived there, in Monteverde, and successfully grew crops in the rich fertile soil, and produced milk, butter, and cheese on their dairy farms. The peaceful Republic was the perfect location for the Quakers to live a tranquil existence. 

Monteverde is located on the top of the Tilaran Mountain Range at 6000 feet. With its location, on the continental divide, it receives the moist winds from the Caribbean year-round, creating a lush, rich cloud forest.
In 1972, George Powell, a biologist, and scientist was so impressed with the biodiversity of the forest he was compelled to meet with Wilford Guindon, one of the original Quakers, and ask for his help to stop the rapid deforestation. Guindon agreed that protecting this amazing area was a top priority. Together they convinced the Quakers to create a 2000 acre reserve to protect the vast array of animals, birds, and plants that called Monteverde home. That first preserved area is now the Monteverde Cloud Forest Preserve.
Today, in 2020, there are more than 140,000 acres of private reserves in Monteverde. Thanks to George Powell, a true pioneer in conservation, Monteverde remains one of the top bird-watching destinations not just in Costa Rica but in the entire world. 

Cloud Forests are tropical rainforests that are located at the tops of mountains and are generally covered in clouds. The low hanging clouds blanket the area in a misty fog sometimes referred to as horizontal rain.
The hot tropical sun has a hard time breaking through the thick cloud barrier and this gives the trees and plants an opportunity to absorb the rich moisture.
The cloud forest explodes in orchids, lichens, bromeliads, lineas, ferns, and towering trees. It's this rich vibrant habitat that attracts so many species of birds, mammals, and amphibians. Monteverde has 2.5% of the world's biodiversity and 50% of all the flora and fauna found in Costa Rica. 
Monteverde is one of the top places to visit in Costa Rica. There is a focus on birding and wildlife tours but with a wide array of adventure activities, a great choice of hotels, and the charming town of Santa Elena, general visitors will enjoy spending time here too.
Although there are no National Parks in Monteverde, the fantastic private reserves offer a chance to see almost 500 different species of birds, Monteverde is a must-visit location on any bird watching tour.
In this article, we'll explore some of our favorite hotels and look at the best places to visit to see your most wanted species.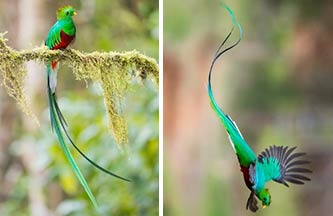 Things to Know About Heading to Monteverde
Monteverde is often paired with the Arenal area on bird watching tours. Looking at a map, Monteverde looks very near to Arenal. It is close (as the bird flies) but driving still takes about 3.5 hours. Although it's not the easiest place to get to, it is well worth the effort.
Traveling with a private guide, guests will travel around Lake Arenal on paved roads and then reach the unpaved road. Heading to the town on the unpaved road, guests will drive about 1.5 hours before reaching the town of Santa Elena. With a private guide, guests will do birding along the way, and birding is excellent.
For guests traveling on an independent tour, a driver will transfer travelers from their Arenal hotel to the shores of Lake Arenal. There guests will get a boat and travel across the lake for about 45 minutes.  On the other side, the driver will pick up guests and take them on to Monteverde (approximately 2 hours). 
From Monteverde, guests can travel west on paved roads to the Pan-American Highway. There they have easy access to points in the Guanacaste and Puntarenas provinces.  
During a stay in Monteverde, it's wise to be prepared for rapidly changing weather conditions.  With its location on the continental divide, Monteverde can follow either Pacific or Caribbean weather patterns. A cool, rainy, misty morning can give way to brilliant blue skies and intense sunshine in just a few minutes, and then, visitors can suddenly find themselves blanketed in fog. 
When going out on excursions, always bring a hat, rain jacket or poncho, and waterproof bags or ziplock bags to store your personal electronics and important documents. When it's misty or rainy, early mornings and evenings can be very chilly. Be prepared with a sweater or fleece. 

Top Spots for Bird Watching Tours
Monteverde Cloud Forest Preserve:
This reserve encompasses 26,000 acres of pristine cloud forest. This reserve boasts 2.5% of the world's biodiversity. From the ancient towering trees, to the over 400 species of birds, 120 different species of amphibians and reptiles, 3,000 different species of plants, the Monteverde Cloud Forest Reserve / Preserve is a magical place for nature lovers.
Entering the verdant forest is an experience of the senses. Guests will feel the mist on their faces, smell the deep rich earth, and see the dense lavish forest with all its colorful inhabitants.
The most wanted bird species of the area, the Resplendent Quetzal, Black and Yellow Silky Flycatcher, Chiriqui Quail Dove, and the Three-Wattled BellBird call the cloud forest home.
The entrance to the reserve is an excellent place for a wide variety of hummingbirds, including the largest hummingbird in Costa Rica, the Violet Sabrewing.
With your private guide or one of the excellent local birding guides, chances are great to see these species and many more. Park hrs. may vary by season, so check the website before heading to the reserve. 

Cura Cancha Private Cloud Forest Reserve: 
In 1970, the Lowther family purchased a beautiful 205-acre property and named it Curi Cancha. Curi Cancha is derived from the Inca language and means "Golden Enclosure". 
At the time, the property was ½ virgin rainforest and ½ open pasture land. The Lowthers were committed to reforesting the pastures to bring Curi Cancha back to its former glory of lush, exuberant cloud forest. 
Part of what makes Curi Cancha such an excellent birding location is the diversity of the habitats.  There is primary forest, pre-montane forest, and some open pasture land. From the trails birders and photographers can access all the different areas, giving the opportunity to see the birds that favor each habitat. 
Curi Cancha is a great place to see the Quetzal, the Green Crowned Brilliant Hummingbird, Black-Breasted Wood Quail, the Emerald Toucanet as well as many other cloud forest birds.

Children's Eternal Rainforest Reserve:
The Children's Eternal Rainforest Reserve is the largest private cloud forest reserve in Costa Rica. The reserve was founded by donations from children in 44 countries around the world.  A nonprofit conservation organization, the Monteverde Conservation League, runs the reserve.
The Reserve consists of four locations, Bajo del Tigre, San Gerardo, Pocosol, and Finca Stellar.
Bird watchers, photographers, and nature lovers can explore the reserve guided or alone and even stay overnight at one of the stations if they want.
This reserve is excellent for large mixed flocks and army ant swarms. A swarm of army ants can produce the Zeledon's Antbird, and the Ochre Breasted Antpitta.
This reserve is also good for the Quetzal, the Bare-necked Umbrellabird, the Green Hermit, and the Buff Fronted Quail Dove. These are just a few of the birds visitors can see in this beautiful Reserve. 

Top Birding Lodges in Monteverde for bird watching tours:
Monteverde is well known for being a great spot for bird watching and there are many hotels to choose from. We'd like to share information on some of our favorites.
Hotel Montana de Monteverde: 
This hotel is a great option in a moderate price range. It is locally owned and operated which assures guests friendly service and attention to detail. The hotel sits next to a 15-acre private forest with very well kept trails. Guests can enjoy birding, and wildlife viewing on the trails and at the small pond. The hotel has a restaurant serving local and international dishes, and a huge observation balcony overlooking the gardens.  

Cloud Forest Lodge:
Cloud Forest Lodge is also an excellent option for birders and photographers looking for a moderate price and great location. The simple lodge is located away from the town, restaurants, and other hotels. The atmosphere is quiet and tranquil. With just six rooms, guests need to book space early, but the reward is a lovely experience surrounded by nature. Guests can enjoy the restaurant and bar, and a chance to walk the fantastic forest trails. 

Hotel Senda Monteverde
:
For bird watchers and photographers looking for a more upscale option, without sacrificing exceptional birding, Senda Monteverde is a top choice. The hotel features beautiful rooms with all amenities, amazing dining, plus access to the Aguti Wildlife Reserve, located just a short easy walk from the hotel. The reserve is a wonderful place for bird watching, wildlife viewing, and nature photography. 

Hotel Belmar:
If guests are looking to combine a bird watching tour with romantic accommodations, wellness, and gastronomy, Belmar is an excellent choice. On a clear day, guests have such an amazing view, the islands in the Pacific, near the Nicoya Peninsula can be seen. Birding is very good on-site and the hotel is well located to all the reserves. Service and dining are exceptional and the rooms are some of the nicest appointed accommodations in Monteverde. 

What Else Does Monteverde Have to Offer? 
Along with bird watching, bird photography, and wildlife viewing at the Cloud Forest Reserves, Monteverde offers guests the opportunity to enjoy top adventure and nature tours, and experience a very interesting cultural blend of Quakers and Costa Ricans.
A tour to the area gives visitors a chance to enjoy beautiful hotels and excellent dining.
Monteverde is close to white water rafting, has horseback riding, ziplining, hanging bridges, rainforest trams, night tours, a large wildlife and adventure park and much more.
Heading to the Monteverde Cheese Factory is a great idea for those interested in trying the locally made cheeses and ice cream.
CASEM (Cooperative of Artisans Santa Elena Monteverde) is a non-profit organization that sells local crafts and homemade goods that make wonderful gifts to share with friends and family or as souvenirs for you to remember your trip to Costa Rica. If you want to get a lovely memento of your trip, CASEM is a great choice. 

When you are ready to start planning your custom tour, small group birding tour or bird photography trip to Costa Rica, consider putting Monteverde in your itinerary. 
Costa Rica Focus is located in Costa Rica and our expert team has traveled throughout Monteverde. We are here to talk about your next birding trip and guide you through the planning process.
Inquire below to reach us and let's talk about your birding adventure to Costa Rica.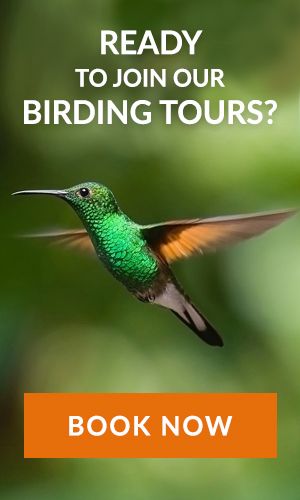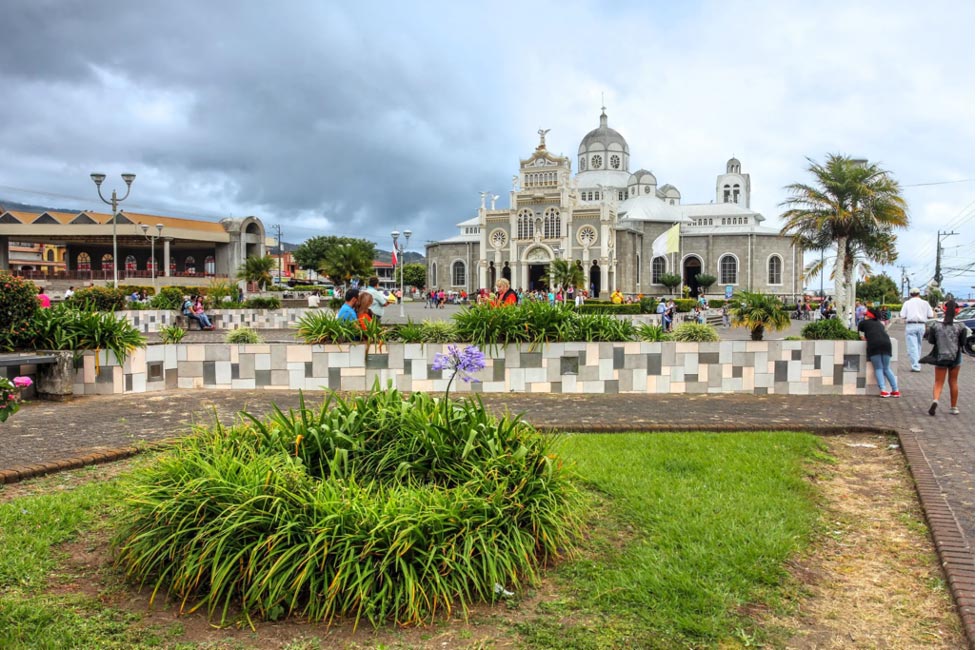 Nestled in the heart of Central America, Costa Rica is a natural wonderland that beckons...
read more
Get a Free Quote for Your Birding Tour