Nestled in the heart of Costa Rica, Heredia is a paradise for nature enthusiasts, particularly birdwatchers.
This lush province, located in the Central Valley, offers a diverse array of bird species and pristine natural habitats.
With its stunning landscapes and rich biodiversity, Heredia is a top destination for birdwatchers from around the world.
In this article, we will explore the best places for birdwatching in Heredia, providing you with a glimpse into the avian wonders of this region.
Braulio Carrillo National Park:
Spanning over 47,000 acres, Braulio Carrillo is a biodiverse haven for birdwatchers and one of the largest protected areas in Costa Rica.
Just a short drive from the capital city, San Jose, this park features a variety of altitudes, ranging from lowland rainforests to cloud forests.
These diverse ecosystems make it home to a remarkable array of bird species and animals. There have been over 150 species of mammals recorded in Braulio Carrillo and close to 400 species of birds.
The area is known for an incredible number of Hummingbirds species that are possible to see here. Keep an eye out for the Blue-Tailed Hummingbird, White-Necked Jacobin, Bronze Tailed Plumleteer, and the Violet Crowned Woodnymph, just to name a few.
The park's numerous well-maintained trails provide excellent opportunities for both novice and experienced birdwatchers to explore the wilderness.
Visiting with a knowledgeable, private guide is recommended.
Virgen del Socorro:
Virgen del Socorro, a small town located in the Sarapiquí region of Heredia, is a lesser-known gem for birdwatchers.
This area is characterized by its lush rainforests, making it an ideal habitat for a wide variety of bird species.
Birdwatchers visiting Virgen del Socorro can encounter a myriad of species, including tanagers, antbirds, and woodpeckers. Keep an eye out for the elusive Tufted Flycatcher and Rufous-Browed Tyrannulet.
The town's proximity to other birding hotspots in the Sarapiquí region makes it a convenient base for exploring the area.
Rainforest Adventures Costa Rica:
For birdwatchers seeking a unique experience, Rainforest Adventures Costa Rica in Heredia offers an opportunity to observe birds from a different perspective.
This eco-tourism attraction features a series of aerial tramways and zip line adventures through the rainforest canopy.
While soaring through the treetops, you can get up close and personal with numerous bird species that inhabit the canopy, including toucans, parrots, and various tropical songbirds.
It's an easy way to observe birds in their natural habitat while enjoying an adrenaline rush.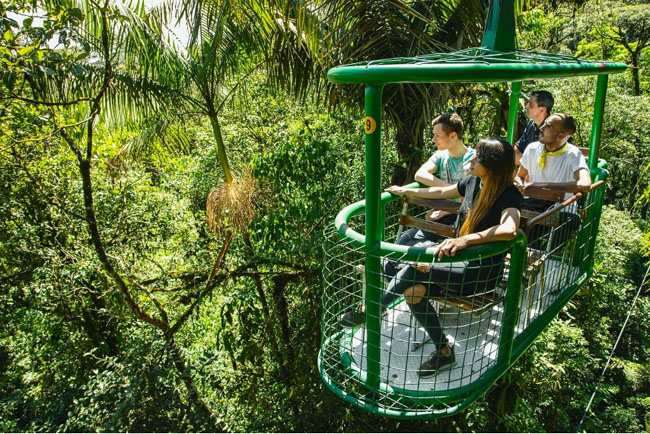 El Tapir Nature Reserve:
El Tapir Nature Reserve, situated in the Sarapiquí region of Heredia, is another fantastic destination for birdwatchers.
This privately owned reserve encompasses a mix of habitats, including primary and secondary rainforests, rivers, and wetlands, attracting a wide range of birdlife.
The reserve is particularly known for its incredible hummingbird diversity.
Birdwatchers can spot numerous species of these tiny, colorful birds, including the stunning Green Thorntail and sometimes the Snowcap.
Additionally, El Tapir is a great place to observe the Black and White Hawk Eagle (on a lucky day) and the Ashy-Throated Chlorospingus.
Barva Volcano:
Barva Volcano is a remote, underrated location for birding in Costa Rica.
Visitors ascend through small towns, coffee plantations, and local farms until the paved road gives way, and the lush forest rises ahead.
The ranger station is about 3 kilometers from the main road, and walking is the only way there.
The reward is an unspoiled, dense, gorgeous rainforest alive with a variety of bird species.
Keep your eyes peeled for the Hairy Woodpecker, Sooty-Capped Bush Tanager, Flame-Throated Warbler, Collared Redstart, and many many more.
Dress warm, the dense forest and higher elevation keeps even the daytime temperatures much cooler than you'd expect for Costa Rica.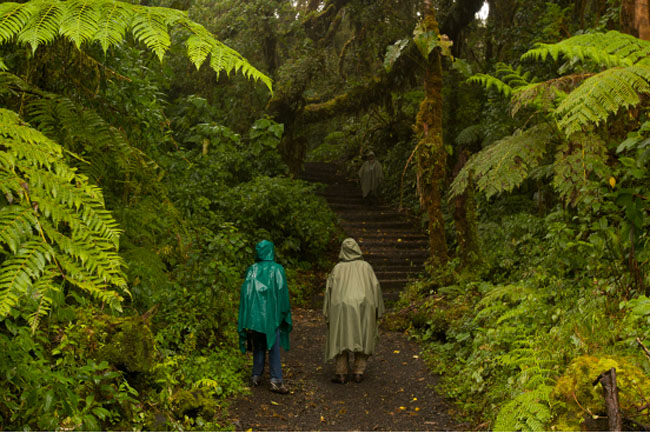 Hotel Bougainvillea:
It may seem funny to list a hotel for a top birding spot, but this unique location gives visitors the opportunity to see up to 10 different Hummingbirds, 3 Owls, and 2 Ground Sparrows that are very hard to see in other parts of the country.
The gorgeous 10 acre private garden is a haven for a nice list of bird species. It's a great place to spend a couple nights at the start or end of your birding adventure in Costa Rica.
Heredia, Costa Rica, offers a diverse and captivating array of birdwatching opportunities. From lush rainforests to high-altitude cloud forests, the province's varied landscapes are home to a staggering number of bird species. Whether you're a seasoned birder or a newcomer to the hobby, Heredia's natural wonders will leave you awe-struck. So grab your binoculars and camera, and embark on a birdwatching adventure in Heredia, where every trail promises a glimpse of avian paradise.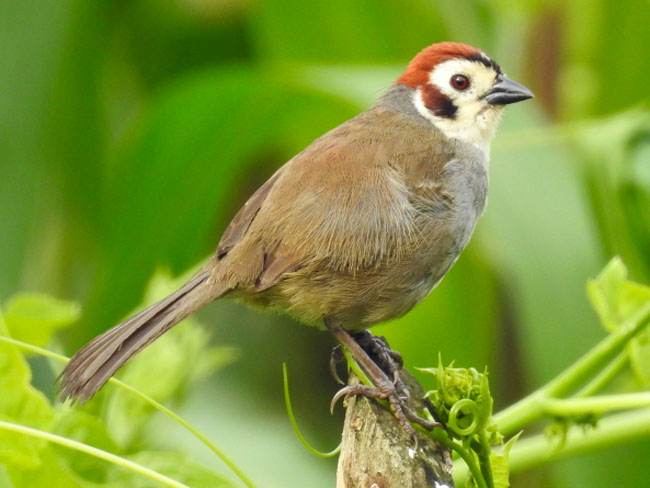 Recommended Hotels in Heredia
Hotel Bougainvillea:
Beautiful Gardens, comfortable hotel, and great birding in the Central Valley.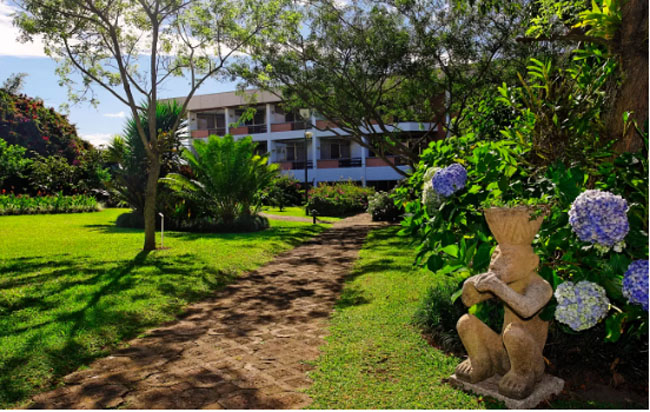 Poas Volcano Lodge:
Great birding on site, close to several excellent birding sites, cozy ambiance.
Tapirus Lodge:
Immersed in the rainforest, close to Braulio Carillo and the Rainforest Canopy Tram.
Peace Lodge:
Luxury in the jungle and great birding on site.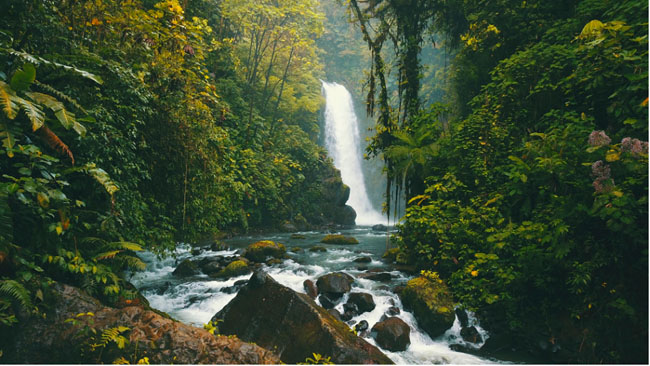 Xandari:
Artsy hotel, great location with wonderful birding gardens and trails on site. Amazing views and one of the best spas in the area.
If you are thinking about a birding trip to Costa Rica and would like to experience some of these great locations in Heredia, click here to contact us. We will help you create an amazing trip plan focused on bird watching, photography, or both. We are looking forward to hearing from you, let's get started, click the link below.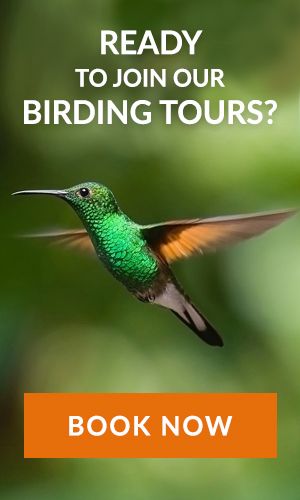 Costa Rica is a land of unparalleled biodiversity and natural beauty. Nestled in the...
read more
Get a Free Quote for Your Birding Tour