Costa Rica is a land of unparalleled biodiversity and natural beauty. Nestled in the heart of this ecological wonderland lies La Fortuna, a small town renowned for its stunning landscapes, local culture, the magnificent Arenal Volcano and, of course, its incredible bird watching opportunities.
With mid-elevation lush rainforests, secondary forests, and open pastures, La Fortuna is a birdwatcher's paradise.
In this article, we will take you on a journey to explore the best places for birdwatching in this enchanting region.
1. Arenal Observatory Lodge & Spa
Every bird watching adventure in La Fortuna should include the Arenal Observatory Lodge & Spa. The hotel boasts nice accommodations and a front-row seat to some of the most stunning avian spectacles in Costa Rica. Situated on the foothills of the Arenal Volcano, the lodge provides a unique opportunity to observe both lowland and highland bird species in one location.
In the early morning, as the sun peeks over the horizon, the lodge's gardens come alive with a symphony of bird calls. Grab your binoculars and head to the observatory deck, where you can witness the colorful Keel-billed Toucan, Tanagers, Oropendolas, Honeycreepers, and Hummingbirds among many others.
The lush gardens and nearby trails offer excellent chances to spot other regional specialties too. As you explore the lodge's extensive trail network, on their private reserve, keep in mind that almost 400 species of birds have been recorded here. The Thicket Antpitta, Biocolored and Spotted Antbirds, and the Ornate Hawk Eagle, to name just a few.
The Arenal Observatory Lodge & Spa is a birder's haven where you can enjoy breathtaking views of the Arenal Volcano while capturing memorable moments with your binoculars and cameras.
2. Sky Adventures Tram & Walk
If you're seeking a birdwatching experience that combines a little adventure too, the Sky Adventure Bridges and tram are a must-visit destination.
This ecological reserve features a network of suspended bridges that allow you to walk among the treetops and immerse yourself in the vibrant world of the rainforest canopy.
As you traverse the hanging bridges, keep an ear out for the melodious songs of the Montezuma Oropendola and the Russet Antshrike.
The dense foliage provides cover for numerous species, making it an excellent spot for observing the very difficult Blue and Gold Tanager, White Fronted Nunbird and the Broad-Billed Motmot.
Along with the beautiful forest walk, guests can enjoy a slow tram ride from the forest floor, to mid-level, to above the Canopy looking for different species of birds and animals along the way.  At the top is a wonderful observation platform offering an unparalleled perspective of the forest canopy.
3. Cano Negro Wildlife Refuge
For a unique birdwatching experience that ventures beyond the immediate La Fortuna area, consider a day trip to the Cano Negro Wildlife Refuge.
Located near the Nicaraguan border, this remote wetland sanctuary is a haven for migratory and resident bird species alike.
As you cruise along the serene waterways of Cano Negro, you'll have the chance to spot rare birds such as the Nicaraguan Grackle, Grey Breasted Crake, and the Glossy Ibis.
The refuge is also home to an impressive array of herons, egrets, and kingfishers. Keep your binoculars handy, as it's not uncommon to encounter rarities like the Agami Heron and the Sungrebe.
The Cano Negro Wildlife Refuge is not just a birdwatching destination; it's a complete immersion in nature. The refuge is also known for its diverse wildlife, including caimans, howler monkeys, and river otters, making it a well-rounded experience for nature enthusiasts.
5. Caño Negro Wetlands
Continuing our exploration of wetland ecosystems, the Caño Negro Wetlands are another birdwatching hotspot in the La Fortuna region. These wetlands, located along the Rio Frio, provide a vital habitat for waterfowl and numerous other bird species.
As you navigate the calm waters of Caño Negro by boat, keep an eye out for the magnificent Jabiru stork, the graceful Wood Stork, and a variety of herons and ibises.
This area is also famous for raptors, with the majestic Snail Kite and the striking Northern Harrier often spotted hovering over the marshes.
The Caño Negro Wetlands are a tranquil and remote destination, offering birdwatchers a peaceful environment in which to connect with nature and observe a wide range of avian life.
6. Cerro Chato
For a more strenuous birdwatching adventure, consider hiking the Cerro Chato volcano. This dormant volcano features a challenging trail that leads to a crater lake, providing a unique and rewarding bird watching experience.
As you ascend the trail, the forest comes alive with bird calls. The vibrant Orange-bellied Trogon is a common sight here, as are various species of woodpeckers, including the Lineated Woodpecker. The elevation of Cerro Chato also allows for sightings of some highland species too.
The hike to Cerro Chato is a full-day adventure, you need to be in top shape to challenge the trails, so be sure to pack plenty of water, snacks, and your birding essentials. The effort is well worth it, as you'll not only enjoy exceptional birdwatching but also breathtaking views of the crater lake.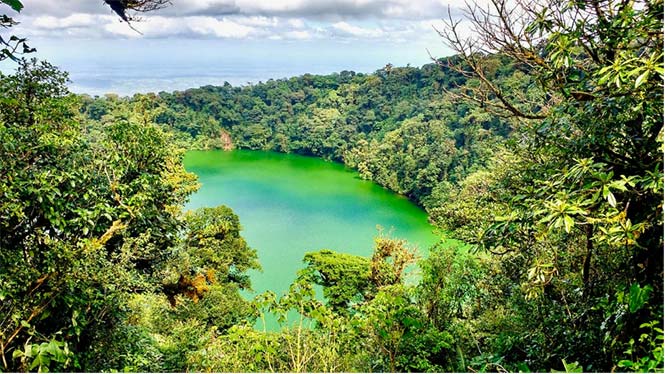 7. Bogarin Gardens
Bogarin Gardens is a good choice for birders and photographers.
Thanks to the dedication, perseverance, and hard work of local naturalist Geovanni Bogarin, you can walk a good, easy trail through second story growth and wet areas that host the most reliable location for a wide variety of bird species. This location is also good for sloths.
Birders and photographers can look for Uniform Crakes, Rufous-Tailed Jacamars, Barred Antshrike, and many more.
8. Papa's Place
Located just outside La Fortuna, Papa's Place is a locally owned and operated private bird habitat in the home of Gerald and Priscilla. This lovely local couple offer up a unique blend of Costa Rican hospitality and excellent birding and bird photography. Sit and check the feeders in the back, and keep your eyes peeled in the forest and gardens for a wide array of Caribbean Foothill species.
Target species: Golden-olive, Rufous-winged, Black-cheeked, and Cinnamon Woodpeckers, Olivaceous Piculet, Double-toothed Kite, Plain Colored and Rufous Winged Tanagers, White Fronted Nun birds, Yellow-eared Toucanets, Hummingbirds, Honeycreepers and many more.
If you are thinking about a trip to Costa Rica for birding or photography, consider including the La Fortuna area to your tour. We'd love to help you plan a fantastic tour to Costa Rica. Click here to contact us and get started on your perfect birding or photography vacation.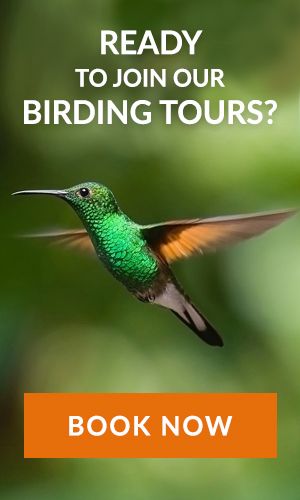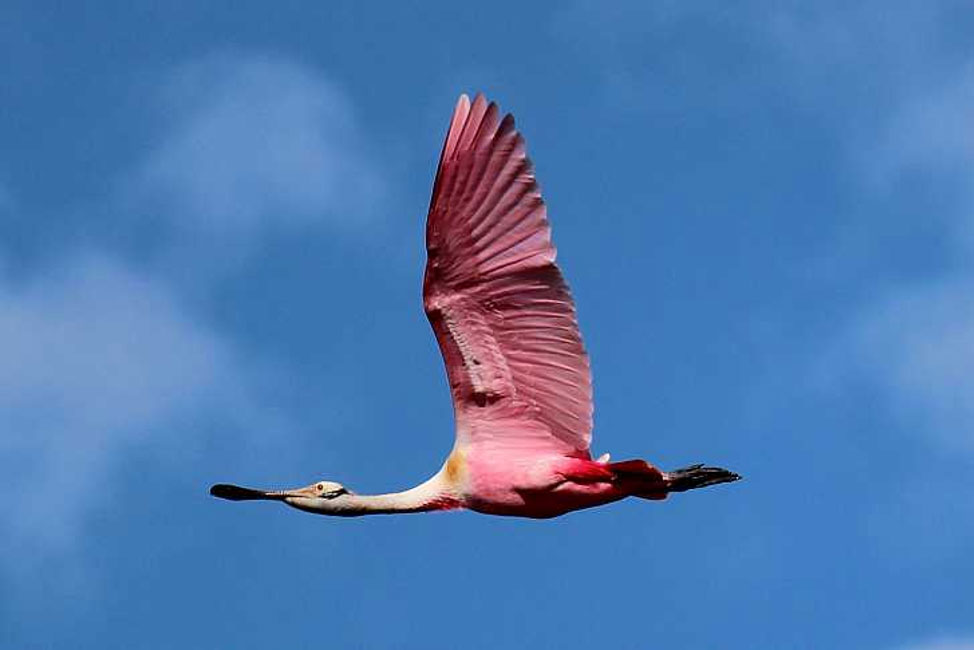 Costa Rica, a tropical paradise in Central America, is renowned for its extraordinary...
read more
Get a Free Quote for Your Birding Tour