Limon, a province located on Costa Rica's Caribbean coast, offers bird watchers an exceptional opportunity to explore a rich and diverse ecosystem.
From dense rainforests to pristine beaches, this region boasts an impressive variety of bird species.
Whether you're an avid bird enthusiast or a casual observer, or a bird photographer, Limon promises unforgettable experiences.
In this article, we will delve into the incredible world of bird watching in Limon, highlighting its unique habitats, popular birding destinations, and some of the remarkable species that call this province home.
Limon is blessed with a range of diverse habitats, providing a haven for countless bird species. The province is characterized by its vast rainforests, mangrove swamps, wetlands, and coastal areas. These habitats create a dynamic environment that supports a remarkable array of avian life.
The rainforests of Limon are teeming with biodiversity. Here, bird watchers can encounter species such as the colorful Keel-billed Toucan, the iconic Great Green Macaw, and the agile Slaty-tailed Trogon.
Exploring the winding trails of protected reserves like Cahuita National Park and Gandoca-Manzanillo Wildlife Refuge offers opportunities to observe rare species like the Great Curassow and the Green Ibis.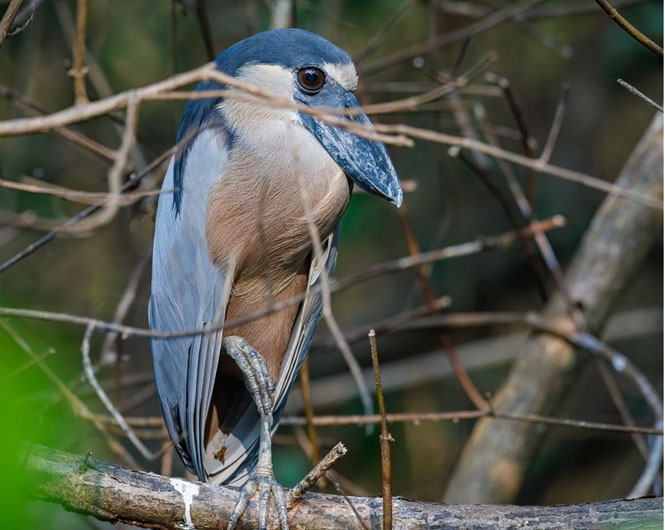 Photograph by Karl Krueger
In the delta of Tortuguero where Tortuguero National Park is located, there is a vital nesting ground for numerous water-loving birds. Visitors can witness stunning sights like Roseate Spoonbills, Agami Herons, and Boat-billed Herons gracefully navigating the labyrinthine channels of these unique ecosystems.
The wetlands and lagoons dotted throughout Limon provide vital habitats for resident and migratory bird species. Places like Pacuare Reserve and Laguna del Frio attract waterfowl, including Anhingas, Northern Jacanas, and the striking Sungrebe. These marshy areas are a delight for bird watchers seeking a close encounter with both local and migratory species.
Limon offers several exceptional destinations that are a bird watcher's paradise. One such place is the famous La Selva Biological Station, part of the Organization for Tropical Studies.
La Selva is renowned for its research on tropical ecosystems and is home to over 400 species of birds. It provides excellent opportunities to observe rare and elusive species like the Sunbittern and the Tiny Hawk.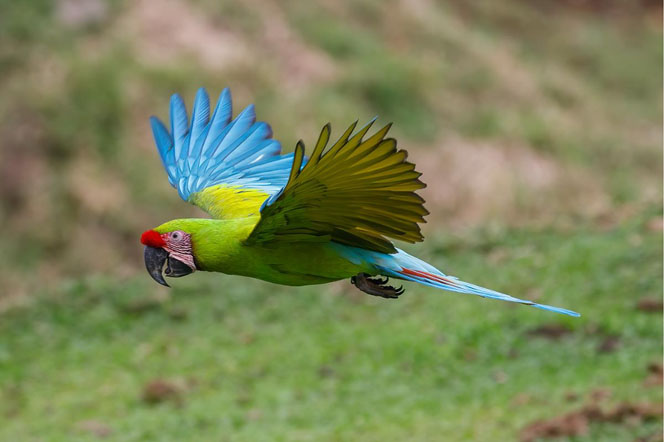 Photograph by Karl Krueger
For those seeking coastal birding experiences, the Gandoca-Manzanillo Wildlife Refuge is a must-visit. This protected area encompasses a pristine coastline and lush rainforest, offering glimpses of beautiful species such as the Black Bellied Whistling Duck and the Green Breasted Mango Hummingbird.
Another notable destination is the Veragua Rainforest, situated near Puerto Limón. This private reserve hosts a diversity of avian species, including the Chestnut Colored Woodpecker and the Black-crowned Antpitta. The reserve's well-maintained trails and observation decks provide an ideal setting for bird watchers of all levels.
Limon is home to a remarkable array of bird species, each with its unique characteristics and charm. Among the standout species is the Great Jacamar. A very wanted bird for birders and photographers, and very difficult to find. Bird watchers can spot this magnificent creature in the area around Rio Bananito.
Limon also hosts several species of hummingbirds, including Crowned Woodnymph, and the Green Thorntail. These tiny, iridescent birds can be found in various habitats, from forest edges to gardens, adding a splash of color to the region's avian diversity. Other noteworthy species include the Sulphur Rumped Tanager, Snowy Cotinga and the Black Chested Jay, all of which have established populations within Limon's protected areas.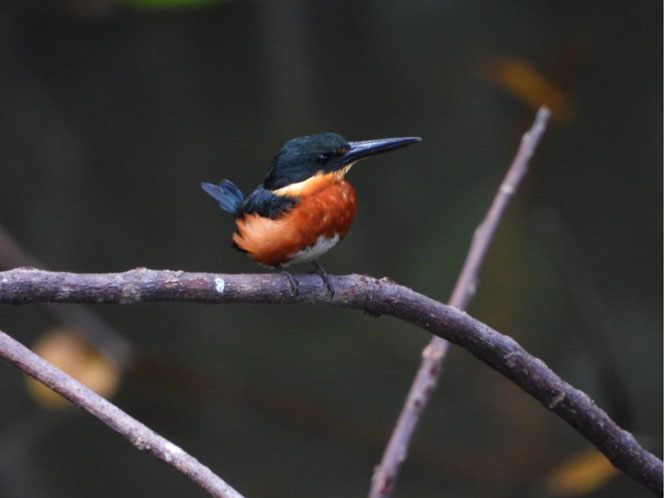 Limon, Costa Rica's vibrant province on the Caribbean coast, is a bird watcher's paradise. Its diverse habitats, from lush rainforests to coastal areas, offer an impressive range of avian species.
With numerous birding destinations like La Selva Biological Station and the Gandoca-Manzanillo Wildlife Refuge, enthusiasts can explore these habitats and observe rare and fascinating birds.
Getting to Limon:
Guests arriving in San Jose can access the many locations throughout the province via private transfer, public bus, or rental car. Tortuguero is only accessible by boat or domestic flight.
Drive times vary greatly depending on which part of the province you are visiting but allow plenty of time as weather and heavy truck traffic often increases expected travel times.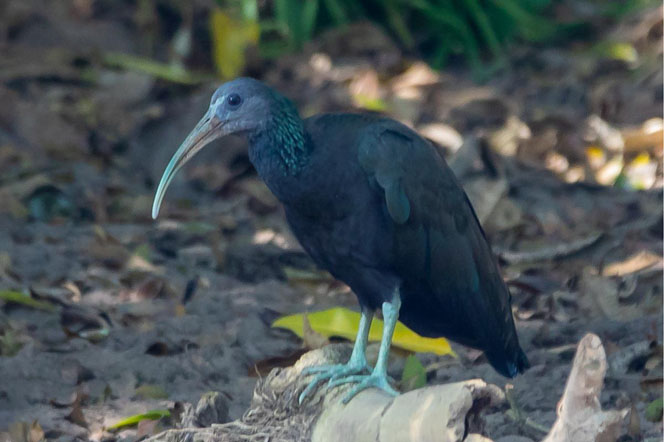 Photograph by Karl Krueger
Top Birding Locations:
La Selva Biological Station
La Selva's influence on tropical ecology is immeasurable. It served as a key training and research site for numerous scientists in many fields of study. La Selva Research Station pioneered private forest conservation in Costa Rica, as it was the first of what is now a large network of private forest reserves in the country. It has provided a base for the study of all tropical flora and fauna.The species richness of La Selva is outstanding, with more than 2,077 species of plants; 125 species of mammals (72 of them bats); 470 species of birds; 48 amphibian species; 87 species of reptiles; 45 species of freshwater fish; and tens of thousands of insects, arachnids and other arthropods.
Tortuguero National Park
Tortuguero National Park (47,000 acres) and the surrounding area is truly a birder's paradise. The beautiful swamp forests, freshwater sloughs, beach, river mouth and primary and secondary forest habitats support over 300 resident and migrant bird species.
Bird enthusiasts visiting Tortuguero can expect to see most of these bird species within a relatively small area from a variety of comfortable lodging options.
There are no automobiles in Tortuguero, instead visitors can travel to most of their birding destinations by boat on the many canals that are interlaced throughout the area.
Time spent birding on trails in the National Park itself can be the most rewarding, with opportunities to see flocks of mixed species of resident birds foraging in the dense undergrowth.
Large numbers of migrant species call Tortuguero home during the northern winter, and provide excellent opportunities for biologists to study these annual movements.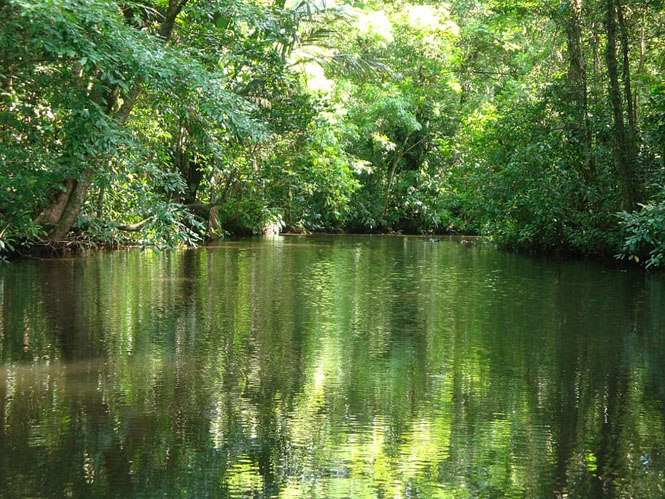 Cahuita National Park
Established in 1970, Cahuita National Park is an excellent location for birds and wildlife.
On the trails from Kelly Creek to Puerto Vargas birders and photographers can find Green Ibis, Yellow-Crowned Night Heron, Northern Boat Billed Herons, Toucans and Kingfishers.
Small mammals abound too. Watch out for sloths, agouti, tamandua, coatis and pacas.
Cahuita is also known for its beautiful beaches and the only remaining coral reef in Costa Rica. Unfortunately, a 1991 earthquake lifted the reef, exposing it to air and sun and since then, despite efforts to save it, the reef has all but perished. A small portion of reef remains and the area is popular for snorkeling.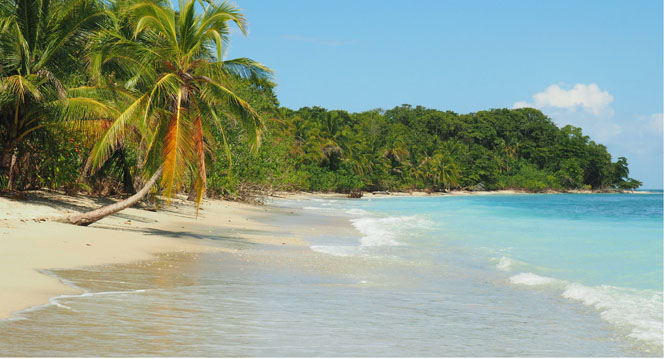 Parismina
Located on the northern Caribbean coast of Costa Rica, Parismina is a small tranquil village on a small island with the Caribbean Sea on one side and rivers on the other.
What makes this area so special is it is the nesting spot for the beautiful Agami Heron. For bird watchers and photographers looking to experience a truly unique wonder of nature, a visit to Parismina during the Agami nesting season is a must do.
Accommodations are rustic but the reward is a chance to be fully immersed in nature.
Not only is the Agami Heron nesting site spectacular, but also visitors have the chance to see Leatherback Turtles, large cats, monkeys, sloths, and a huge variety of bird species.
Gandoca Manzanillo Wildlife Refuge
This unique protected area includes both marine and coastal terrestrial areas.
This area provides one of the only mangrove forests on the Caribbean side of Costa Rica.
There have been 358 different species of birds registered in Gandoca.
For animal lovers it's a great place to spot turtles, monkeys, sloths, and small mammals too.
Accommodations:
There is a wide variety of hotels and lodges throughout Limon to suit all tastes and budgets. Visitors should discuss their preferences with a local expert to get advice on the best places to stay.
If you are thinking about a trip to Costa Rica for birding or photography, consider including the province of Limon in your journey. We'd love to help you plan a fantastic tour to Costa Rica. Click here to contact us and get started on your perfect birding or photography vacation.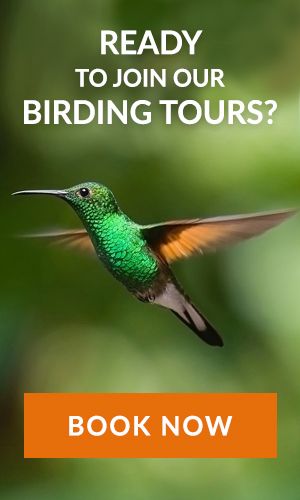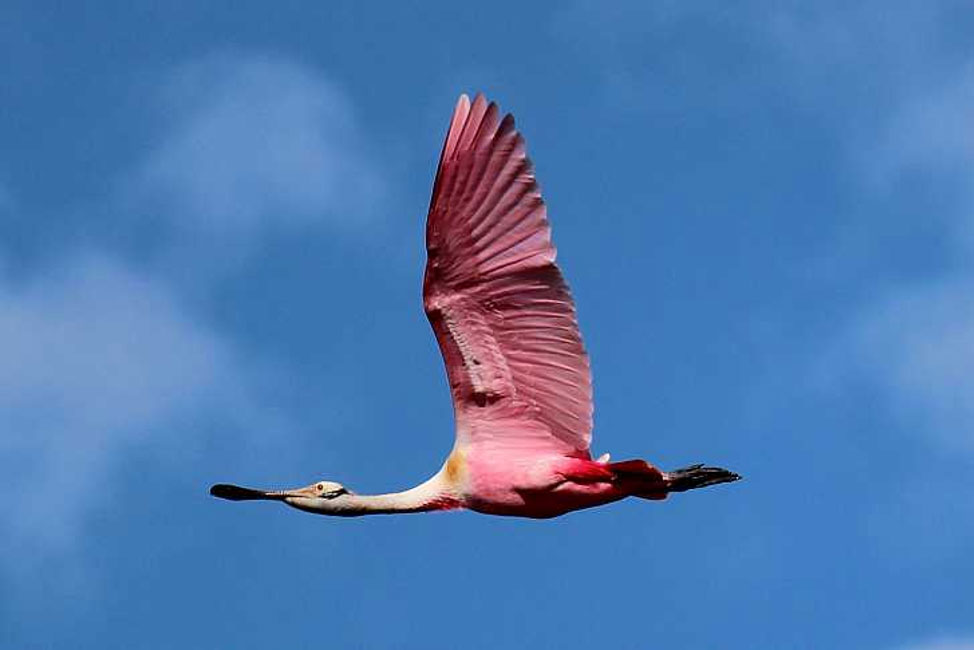 Costa Rica, a tropical paradise in Central America, is renowned for its extraordinary...
read more
Get a Free Quote for Your Birding Tour